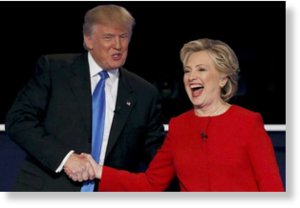 50-55% of Americans (the number that actually vote) still indulge themselves in the narrative that voting in the Presidential election gives them some influence over the direction their country takes, and provides them with the feeling of having some personal power. The other 45-50% that don't vote get the same feeling by supporting their favorite sports team or emotionally attaching themselves to the daily life choices of their preferred celebrity.
In terms of the 'bigger picture', this year's election is something of a watershed. For the first time the US population is being emotionally manipulated to not just choose between Democrat and Republican, but between two candidates that are clearly (even to the average American) reprehensible assholes. At the same time, the people are being encouraged and manipulated to find as many ways as possible to ignore the fact that the candidates are disgusting individuals, and choose one anyway.
The sane response to being offered either a shit sandwich or a shitshake is to refuse both, but apparently a decent percentage of Americans have, in essence, lost their senses.