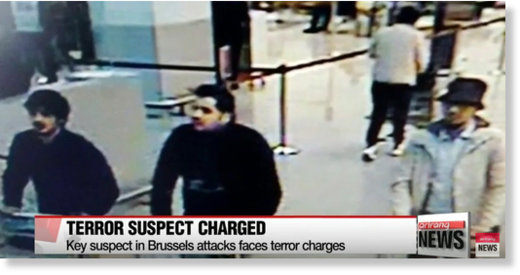 Words fail us. Well, not really. Here are some words: BS, Farce, Con job, Sham, Travesty, Mockery. We could go on, but those should suffice for now to describe the official narrative around the Brussels bombings last week.
Suicide bombers, they told us, were behind the blasts in the airport and metro station. Yet a preponderance of lower leg injuries at both sites argued strongly for bombs that were placed on the floor, not attached to the chest of some wild-eyed jihadi of the type that appears only in the best wet dreams of NATO officials.
But we have proof! Don't we? Video evidence even! We all
saw
the
footage of the bombers
as they nonchalantly pushed their baggage carts through the airport just before detonating their 'vests' and considerately leaving a few behind in a trash can for good measure (and authorities' ease in establishing a narrative from the get-go). Three guys, two dressed in black and a third with a hat, glasses and white coat. That's them! Those two in black, they suicide bombed themselves and the third one got cold feet at the last minute and put his bomb in a suitcase and took off. The 'authorities' later found him and arrested him; they'll certainly make him spill the beans. Right?