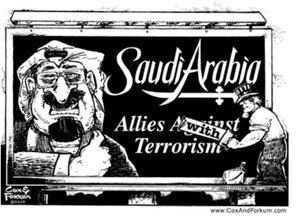 Remember September 11th, 2001? Every man woman and true-blue child in the USA was up in arms. The outrage! The audacity! This is war! Who dunnit?! The American people were shocked, traumatized, and needed to chill and think things through, but their government had a better idea: ride the deliberately manufactured tidal wave of emotion over to the Middle East, with the US military in tow, to get the one man responsible: Osama bin Laden. Sure!
A few hastily-cobbled-together intelligence reports and a few weeks of mass news coverage later, and the whole nation was, predictably, baying for the blood of not just Osama, but all those sand-nigger, camel-jockeying, towel-head t'rrists, wherever they might be! (Or wherever the government claims they might be.) I mean, how DARE they! This is AY-MURIKA!
So where was he, this Osamy? His home country of Saudi Arabia? No! He was hiding out in Afghanistan with the Taliban! The very same Taliban that the US funded and armed in the 80s to keep the Soviets out. But, make no mistake, it was pure coincidence that the 9/11 attacks were once again leading to direct US involvement in the geopolitically strategic nation of Afghanistan, and for exactly the same reason. We'll have none of your 'conspiracy theories' here!