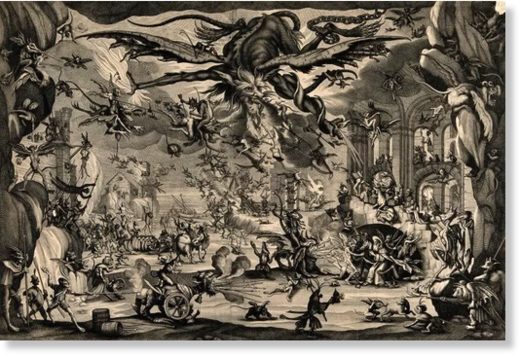 Right now I think many people have the sense that society is coming apart at the seams. It's like the famous WB Yeats poem, "
The Second Coming"
:
Things fall apart; the centre cannot hold;
Mere anarchy is loosed upon the world,
The blood-dimmed tide is loosed, and everywhere
The ceremony of innocence is drowned;
The best lack all conviction, while the worst
Are full of passionate intensity.

Surely some revelation is at hand;
Surely the Second Coming is at hand.
Yeats's Second Coming is not an event to be celebrated. It is not Christ, but the great Sphinx of Giza, who is lumbering toward civilization, with nothing good on its mind.
A shape with lion body and the head of a man,
A gaze blank and pitiless as the sun,
Is moving its slow thighs, while all about it
Reel shadows of the indignant desert birds.
The darkness drops again; but now I know
That twenty centuries of stony sleep
Were vexed to nightmare by a rocking cradle,
And what rough beast, its hour come round at last,
Slouches towards Bethlehem to be born?
In the past few months we've seen mass hysteria over a virus that, according to the
CDC's "best estimate,"
has a lethality rate of 0.26%. (That's 0.4% of those with symptoms, adjusted for the CDC's estimate of 35% infected without symptoms.) Then we saw new hysteria over a suspect who died in police custody and whose death was captured on video. George Floyd's death should not have happened, but the officer responsible has already been charged and is being held in custody, so what exactly does "justice for George Floyd" represent? A lynching? Perhaps. In any event,
the tragedy is being used to justify looting, arson, murder, and the destruction of inner-city neighborhoods that won't be rebuilt for a generation, if ever. In the meantime, so-called "medical authorities" are telling us that, while the virus makes it incredibly dangerous to gather together for a picnic or sports event, it is not only safe but morally necessary to assemble for protests.