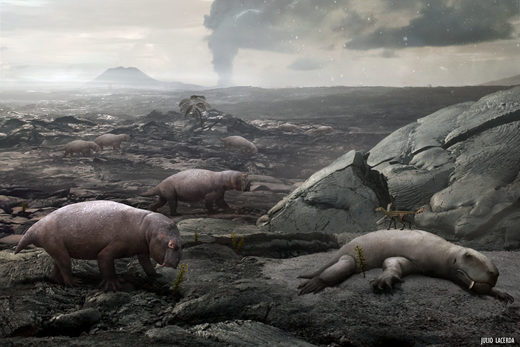 In the past it has been widely reported that high and abruptly changing CO2 concentrations during the Permian led to climate conditions that were "
too hot for complex life to survive
" on the planet. Today, scientists have determined that the opposite may be true: the Permian mass extinction event occurred during a period of global cooling, expansive ice sheet growth, relatively
low CO2 levels
, and a marine-habitat-destroying
sea level drop of 100 meters
.
A year ago, the
press release
for a
paper
published in Scientific Reports argued that during the Permian mass extinction event,
"the majority of marine species" were killed off by an "extreme cold"
period that coincided with widespread glaciation and a dramatic drop in global sea levels.
"Analysis of the newly dated layers showed a
significant reduction of seawater levels
during the [Permian] extinction event. The only explanation for such a dramatic decrease in water levels is a sudden increase in ice. The ice age lasted just 80,000 years, but the extreme cold was enough to kill off the majority of marine species."