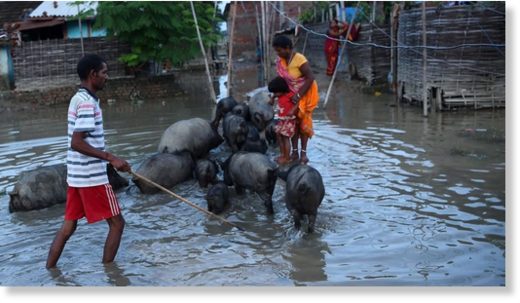 Fourteen people were killed in a landslide in Nepal on Monday, taking the death toll in rain-related incidents across the country to 91
even as a group of stranded Indian nationals were rescued from a national park by using elephants.
Incessant rains over the past few days have resulted in massive flooding and landslides at several places, displacing tens of thousands of people. The monsoon rains have wreaked havoc since Friday in districts spanning the eastern, central and western regions of the country.
According to the home ministry, 91 people were killed and 25 more injured.
Another 38 have been reported missing following landslides and floods over the past three days and the death toll is likely to rise, the ministry said.
The bodies of two Indian nationals were found in Parsa district of Nepal, according to police. Their identities have been established, officials said.
A group of 35 Indians stranded at Sauraha, part of Chitawan national park, were rescued by using elephants, an Indian embassy spokesperson told the media. Earlier reports had quoted authorities as saying that 200 Indian tourists were among some 700 stranded people but the Indian mission said only 35 of them were Indians.