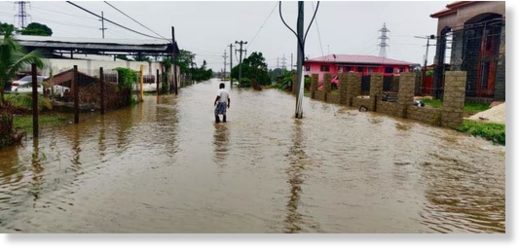 Schools and busi­ness­es re­mained closed and scores of peo­ple could not get to work as ris­ing flood­wa­ters, ex­ac­er­bat­ed by high tide, trig­gered mas­sive flood­ing in 22 ar­eas across South Trinidad yes­ter­day.
Among the schools closed were Shi­va Boys Col­lege, Debe Hin­du School, Bar­rack­pore East, and West Sec­ondary and Ra­mai Trace Hin­du School.
The floods cov­ered most of Clarke Road, Pe­nal Rock Road, Der­rick Road, Lal­be­har­ry Trace, Pa­pourie Road, Low­er Bar­rack­pore, Has­sanali Trace, Clarke Road, Kat­wa­roo Trace, Dig­i­ty Trace, Batchya, Lal­too Trace, Mo­hess Road, Ramd­har­ry Trace, Ali Av­enue and Com­mu­ni­ty Street in Pe­nal.
Late yes­ter­day, Lo­cal Gov­ern­ment Min­is­ter Kaz­im Ho­sein said the Dis­as­ter Man­age­ment Units of the Cor­po­ra­tion were ac­ti­vat­ed and over 600 Com­mu­ni­ty Emer­gency Re­sponse Team (CERT) vol­un­teers, trained this year, were on stand­by to as­sist in their com­mu­ni­ties.