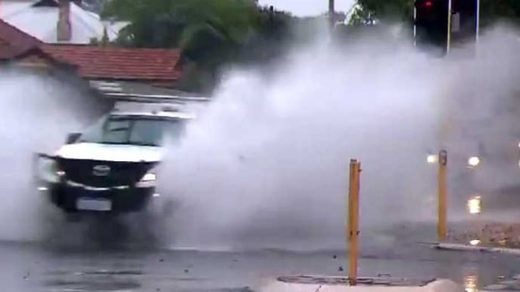 The remains of ex-tropical Cyclone Joyce has dumped more than
four months' worth of rain on Perth in less than 24 hours, leading to power blackouts, flooding and
causing havoc for planes trying to land at the city's airport
.
The conditions were caused by the remnants of ex-tropical Cyclone Joyce, which pummelled Perth with heavy rain for much of Monday.
The Department of Fire and Emergency Services received more than 330 calls for help, and Western Power said on Tuesday morning blackouts had affected about 1300 homes, with crews working throughout the night to repair damage to its network.
A spokesman for RAC said the insurer had already received more than 670 claims as a result of the weather event.
The city officially recorded 96 millimetres of rain - the wettest January day since 104mm fell on the city on January 22, 2000.
The total is equal to the average rainfall for the city for December, January, February and March combined.
It was also the the second-highest January daily rainfall ever recorded.