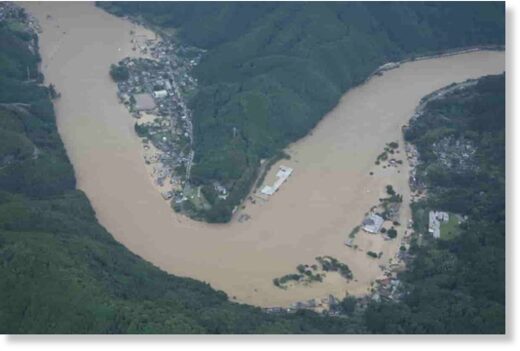 A week of torrential rain pounded southwestern and central Japan, triggering severe flooding and landslides that have killed at least 68 people in the region.
Kumamoto prefecture in Japan's southern island of Kyushu has been hardest hit, and over the weekend residents braced for more extreme weather. On Saturday
some areas observed more than 80 millimeters of rainfall per hour and 1,000 mm over three consecutive days. Strong winds, lightning, and tornadoes were also added to the weather warning. The Ministry of Land reported 282 mudslide disasters
across 27 prefectures with the largest number, 52, in Kumamoto prefecture.
Eastern and western Japan are on high alert for heavy 24-hour downpours with a risk that rivers in Iwate and Aomori could overflow. New mudslide warnings have also been issued for Kyushu as past rain loosens the ground and damaged river levees inundate low-lying areas.