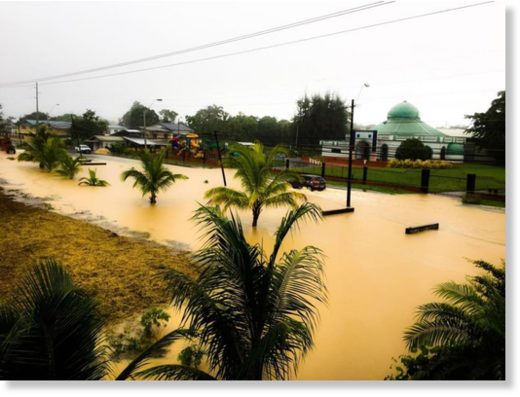 Large sections of Trinidad were swamped yesterday by flood waters which continued to rise in certain areas following over 24 hours of non-stop rainfall which began on Wednesday.
As a result, the Meteorological Service yesterday maintained its riverine flood alert for Trinidad especially as the Caroni River burst its banks shortly after midday. In its 9.12 am bulletin,
the Met Office advised that as opposed to street and flash flooding, riverine flooding is more prolonged and widespread.
It also reported that water levels in some major rivers as well as their tributaries reached threshold levels overnight and the flood situation would be exacerbated by rainfall yesterday accompanied by gusty winds. "(With) the occurrence of high tide at 3.50 pm, the flooding situation is expected to continue for the next 12 to 24 hours in areas already affected," the bulletin said.