About Niall
Name: Niall Bradley

A contributing writer at SOTT.net, Niall Bradley's articles are cross-posted on his personal blog, NiallBradley.net. Niall is co-host with Joe Quinn of NewsReal, and co-author of Manufactured Terror: The Boston Marathon Bombings, Sandy Hook, Aurora Shooting and Other False-Flag Terror Attacks.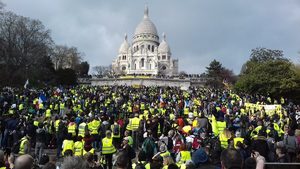 Acte XIX: Sacré-Coeur, Paris, 23 March 2019
Confucius has no interest in falsehood; he did not pretend to be prophet; he claimed no inspiration; he taught no new religion; he used no delusions; flattered not the emperor under whom he lived.
- Voltaire
Recent Comments
Bayer, the creators of Heroin in 1898. Only stands to reason that they'd aquire yet another chemical plague (Roundup) to poison mankind.
---
Finally, a domestic animal attack where the owner is held responsible. Surely that's just common sense but it seems to be rare (at least in my...
---
Summary: Open Philanthropy Project (OPP) is funded by Facebook creators. OPP is an investor in " Impossible Foods" (a plant based burger)....
---
but, still sweet to see how outdated farts find other outdated farts to agree with :-)
---
a Palestinian rocket struck a house in a town near Tel Aviv So convenient ... until proven otherwise, I will assume it was "a rocket from...