About Niall
Name: Niall Bradley

Niall Bradley has a background in political science and media consulting, and has been an editor and contributing writer at SOTT.net for 8 years. His articles are cross-posted on his personal blog, NiallBradley.net. Niall is co-host of the 'Behind the Headlines' radio show on the Sott Radio Network and co-authored Manufactured Terror: The Boston Marathon Bombings, Sandy Hook, Aurora Shooting and Other False-Flag Terror Attacks with Joe Quinn.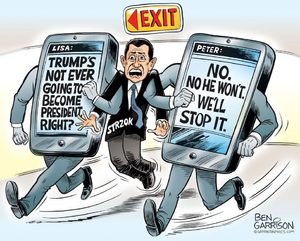 Strzok has left the building
Mystery creates wonder, and wonder is the basis for man's desire to understand. Who knows what mysteries will be solved in our lifetime, and what new riddles will become the challenge of the new generations.
- John Keel
Recent Comments
"US elites created a financial system that requires other countries to have trade surplus with the United States, and without reasonable trade...
---
Pedophilia - in thought or action - is predatory by it's very nature. There is no way that predilection isn't about exerting power over a weaker...
---
I thought non-administrative employees getting a severance package was a long since extinct practice in the U.S business world. Last thing I...
---
" Comment: Hope the door slapped them on the way out. This kerfuffle was all about and likely dictated by Israel." Would this not defeat the...
---
[Link] "The Fourth Phase of Water," by Gerald Pollock, is a fascinating book that gets into great detail about experimentation and implications of...