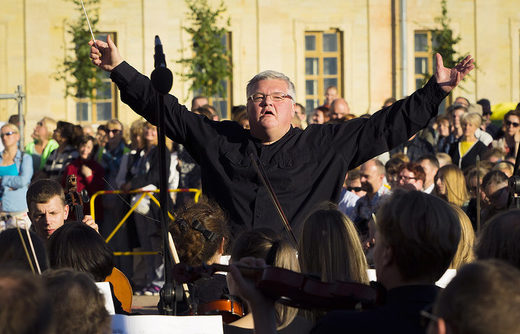 A concert where the St. Petersburg Symphony Orchestra under the baton of Sergey Stadler performed all the nine symphonies by Beethoven in one day has entered the Guinness World Records. The city's concert association, Peterburg-Kontsert, which the St Petersburg Symphony Orchestra reports to, received a written notification from Guinness World Records Russia.
"Following a recommendation from the Guinness World Records Russia expert department, a decision was made to recognize the application as an official record scored in Russia," the letter said. "The editorial board congratulates you on the recognition of your achievement that
profiles the Russians as a creative nation and, on top of that, shows the creative mentality and an offbeat approach to the presentation of classics
."
The music marathon that carried on
for 8 hours and 3 minutes
has gone down in history as "the longest philharmonic concert with a program consisting of the works of just one composer in the rendition of a single orchestra under the baton of one conductor."
The event took place on November 26, 2017, at the stage of the St. Petersburg State Academic Capella. Guinness emphasized in the letter that the participants of the record marathon have the opportunity to send applications to the CIS Records Book, the Book of Records of Europe and the Guinness Book of Records.