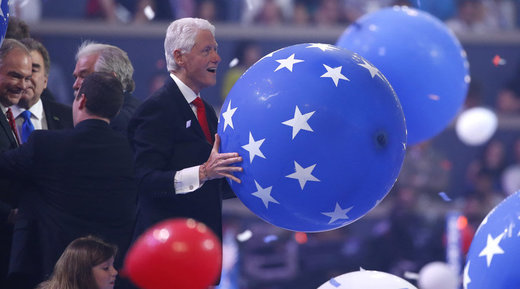 Thousands of star-spangled balloons falling from the rafters are to be expected at the end of a US political convention, but Bill Clinton's refusal to give one up shocked one little girl. Now an aide of the former president is trying to clear things up.
At the conclusion of Hillary Clinton's nomination acceptance speech on the final night of the Democratic National Convention in Philadelphia, the tradition lived on. Untold numbers of balloons drifted to the floor, where ecstatic Democrats volleyed the symbols of joy in celebration of the historic moment. Thousands were clearly overjoyed, but former President Bill Clinton was rhapsodic.
Video, photos, and GIFs of the 42nd commander-in-chief quickly made the rounds online, but one clip stood out above all. Somewhere in the backstage area, along with Hillary, Huma Abedin, and other staffers and supporters, Bill Clinton carried off his prized balloon - a blue one covered in stars. A little girl in a matching patriotic dress took notice and, assuming that Bill was handing it to her, attempted to take the balloon.
The 69-year-old man from Hope, Arkansas yanked it back immediately, leaving the girl with a look of, "Well then."