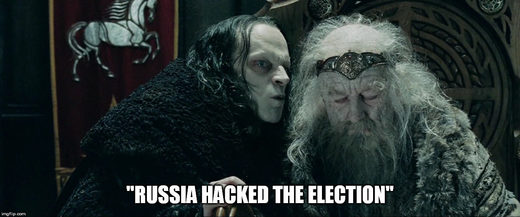 Ever since the
deep state
Democratic party candidate Hillary Clinton lost the U.S. presidential election to Republican underdog and anti-establishment figure Donald Trump, we've been hearing almost daily stories in mainstream news about Russia's infiltration into the 2016 election process. Like other MSM outlets, CNN has been very creative in the ways it pushes this narrative (for example
using an illustration
from the famous video game Fallout 4 in one of their hacking stories).
In short the story goes something like this: The old bogeyman Russia is here once again, this time directly threatening the democratic process of the most democratic country in the whole democratic Western world! Evil mastermind Putin himself ordered a notorious "influence campaign" by unleashing his army of internet trolls to spread fake news against poor Hillary. Then he reminded the FSB to use plenty of
bear references
with Russian IP addresses and Moscow time zones while hacking the DNC emails. After that Putin passed these emails, the content of which the MSM never honestly covered, to Wikileaks, thus allowing Trump to win the election — voilà!
Interestingly, the proof for this narrative was based on the stories propagated by anonymous intelligence sources from the depths of the very swamp Trump planned to drain. Surely they didn't have an ax to grind?
Fast forward nine months and how does the Russia story look now? Well, since the mainsteam media has been responsible for spreading this narrative, we should listen to what they themselves have to say about it. A week ago Project Veritas started releasing a series of undercover videos called American Pravda, where CNN staffers unknowingly spill the truth about Russia-Trump collusion for the whole world to see.