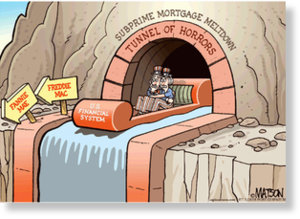 We all know by now that the 2008 Crisis was the result of the unchecked and unregulated greed of Wall Street Fatcats. This greed, that infects the 1%, nearly brought the entire world economy to its knees, and could have brought it lower.
Money-mad psychopaths were able to convince the government to deregulate important parts of the financial markets, allowing them to glut their inhuman avarice, and when it all went sour, those same psychos were bailed out by a corrupt bipartisan political maneuver to further rob the taxpayers of the world and put their hard-earned cash right in the pockets of the same people whose criminal behavior had led to the crisis in the first place.
That's what we all know,
what we all seem to agree happened
.
But it may not be true.