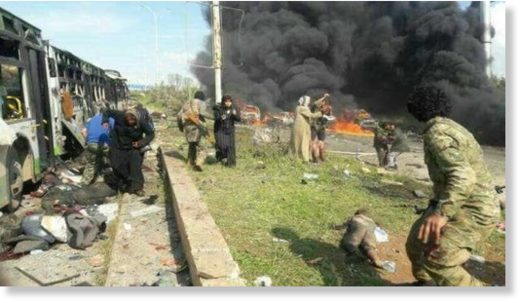 There are apparently no 'red lines' when it comes to the documented terrorism of death squads in Syria, be they the Free Syrian Army (FSA, who committed some of the most heinous massacres of Syrian civilians
in 2011
,
in 2012
,
in 2013...
), Nour al-Din al-Zenki
child-beheaders
, or Jaysh al-Islam (with their love of caging civilians to use as human shields and firing mortars on civilian areas of Damascus and outskirts).
On the afternoon of April 15, terrorist factions attacked buses carrying civilians from the long-besieged western Syria villages of Kafraya and Foua. Thus far, the death toll is reported to be at least 100, with some estimating a much higher number. Earlier Sputnik
reported
:
"The number of victims [in the explosion] is at least 70; over 130 are injured. It is difficult to say as there are many burnt bodies and body parts around the damaged buses," noting that "hit the Rashidin area on Aleppo's outskirts. The bus was waiting for entering the city of Aleppo."

"The blast supposedly was caused by a suicide attacker who detonated an explosive device. The car with the attacker approached the buses disguised as a vehicle transporting food."