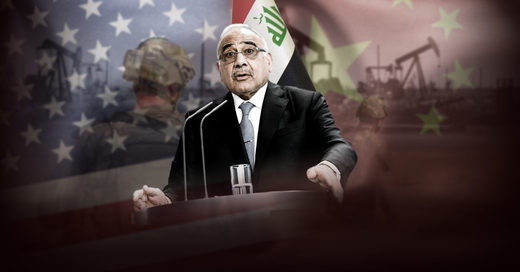 Since the U.S. killed Iranian General Qassem Soleimani and Iraqi militia leader Abu Mahdi al-Muhandis earlier this month, the official narrative has held that their deaths were necessary to prevent a vague, yet allegedly imminent, threat of violence towards Americans, though President Trump
has since claimed
whether or not Soleimani or his Iraqi allies posed an imminent threat "doesn't really matter."
While the situation between Iran, Iraq and the U.S. appears to have de-escalated substantially, at least for now, it is worth revisiting the lead-up to the recent U.S.-Iraq/Iran tensions up to the Trump-mandated killing of Soleimani and Abu Mahdi al-Muhandis in order to understand
one of the most overlooked yet relevant drivers behind Trump's current policy with respect to Iraq: preventing China from expanding its foothold in the Middle East
. Indeed, it has been alleged that even the timing of Soleimani's assassination was directly related to his diplomatic role in Iraq and his push to help Iraq secure its oil independence, beginning with the implementation of a new massive oil deal with China.
While
recent rhetoric
in the media
has dwelled
on the extent of Iran's influence in Iraq, China's recent dealings with Iraq — particularly in its oil sector — are to blame for much of what has transpired in Iraq in recent months, at least according to Iraq's Prime Minister Adel Abdul-Mahdi, who is currently serving in a caretaker role.