I read the most ridiculous headline recently, something that at first glance I presumed had to be 'fake news.' The headline was:
Cop attacks innocent woman, tasers her for no reason, calls it 'horseplay', then gives her a 'Sorry I Tased You' cake
.
Sounds like a joke, right? I did some digging and the headline is technically not accurate. The officer in question never gave the woman a cake, he just texted her this picture: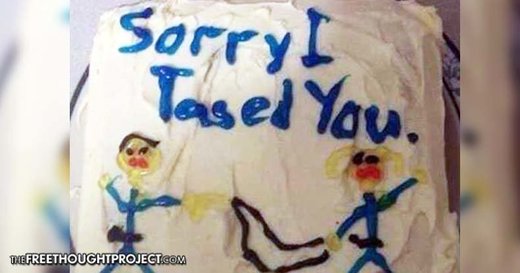 The problem here is that everything else is true. This cop showed up at this woman's work for no reason, harassed her, stole her drink and then tased her when she tried to get it back.
The lawsuit states that the officer "used his apparent law enforcement authority to intimidate, harass, and threaten [the] plaintiff ... about her personal life. Because Wohlers did not like how [the] Plaintiff failed to respond to his show of authority, Wohlers became increasingly aggressive toward employees at the apartment complex's office, including with Ms. Byron."

Ms. Byron says that the officer then took a Sweet Tea that was sitting on her desk and refused to give it back to her. When she attempted to get her drink back, the officer tased her in the throat and chest and then jumped on top of her when she fell to the ground, placing his knees firmly on her chest and forcefully removing the taser prongs.
Now, if you or I were to walk into someone's office, harass, steal and attack someone with a deadly weapon, we'd be in jail, facing harsh penalties. This cop, however, was never charged and quietly resigned from his department without any legal consequences. His department defended him, calling this a simple case of 'horseplay', as if this was two young children having a friendly tussle in a schoolyard.
Can you imagine the mentality of someone who can conflate horseplay with assault? How about imagining them having the authority to exercise deadly force on civilians? Reducing assault to 'horseplay' demonstrates the way in which accountability is sidelined, not only in this particular case, but across the US. Obviously, there's a serious problem here.