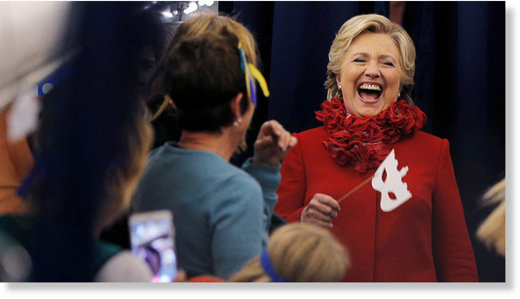 FBI Director James Comey dropped the proverbial bombshell when he announced a '
reopening' of the investigation into the Hillary Clinton private email server email scandal.
For just over a week, the news threatened to detonate smack bang in the middle of the Clinton campaign team, threatening to snatch defeat from the jaws of victory for crooked Hillary. To make matters worse, we learned that a year-long parallel investigation is being carried out against The Clinton Foundation and potential pay-to-play scheming, and that is where the FBI is focusing. It comes with potential bombshells that could substitute Clinton's plans for swanning around the White House with despairingly clutching at the bars of a prison cell.
The fact Clinton is still in the race and that Trump has emerged as the Republican candidate shows how broken US democracy and the political system are.
That Clinton hasn't withdrawn from the presidential race, apologising profusely for her misdeeds, shows just how corrupt and power hungry she is and how she views herself as beyond the law.
Julian Assange
said she is "eaten alive by her ambition,"
suggestive of a psychopathic nature that doesn't know right from wrong and doubles down on the corrupt behaviour when the heat is on.
Clinton could take office with multiple investigations being run against her and her associates, any of which could bring her down.