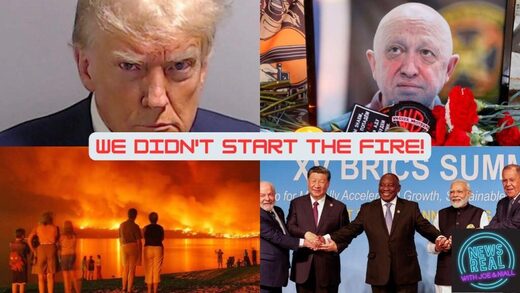 The latest 'indictment' against Donald Trump for what amounts to Crimes Against The Regime has produced a 'mugshot' that symbolizes the biggest political 'own goal' yet for the Democratic Party. Seriously, what the heck are they even thinking?! Trump's even popular in the hood now! Meanwhile, in Russia, Yevgeny Prigozhin is no more: he appears to have been shot/blown out of the sky outside Moscow, ending a half-year of bizarre and politically dangerous antics from the ex-owner of Wagner PMC.
Also on this
NewsReal
, Joe and Niall discuss the rash of highly-mediatized wildfires around the world throughout August: is it 'climate change'? Or is it people who want you to believe it's climate change? Either way, the media narrativizers are clearly capitalizing on them to attract clicks and drive home fear. Good news is, BRICS doubled in size last week as de-dollarization, multipolarity, and democratization gather pace. A process of global transformation is underway and there's nothing the imperialists in Washington and London can do to stop it...
Running Time:
01:44:56
Download:
MP3
— 72.1 MB
This podcast is also available to view, share and download on
Rumble
,
Odysee
and
VK
.
Show Notes