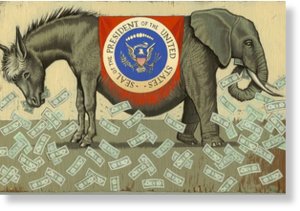 Veteran Oscar-winning 'anti-American' documentary-maker Michael Moore appears to have lost the plot. Moore recently held a surprise sneak preview screening in NYC of his new documentary
Michael Moore in TrumpLand.
Recorded over two nights earlier this month in the pro-Trump town of Wilmington, Ohio, the film is much less an exercise in Trump bashing than a tribute to the dubious virtues of Hillary Clinton.
By way of introduction to the recent screening in NYC, Moore told the audience:
"What the country doesn't need is to be told that Trump is a crazy, dangerous psychopath [and] sociopath, all of that. He has written and produced that movie and it appears daily."
Moore's backing of Clinton is surprising given that he has been one of her most outspoken critics.
In the run-up to the 2008 elections,
he said
he was "morally prohibited" from voting for Hillary due to her support for the invasion of Iraq, and as recently as March this year he
called her 'Wall Street's paid candidate".
Then again, that was when there was a 'Democratic' alternative in the form of Bernie Sanders, whom Moore strongly supported.
When questioned after the screening about his apparent change in opinion, Moore made it clear that he still doesn't like Clinton:
"She has a very close relationship with [Wall Street]. If you've read any of the Podesta emails—or her emails—you can see that she's inclined to that... The fight will continue. The Bernie Revolution on Nov. 9th is critical. If we just leave it up to her, she may tend to side with that which she's become used to. I feel the same way about the Iraq War vote, I don't feel any less passion about her mistake."
While this suggests that Moore has joined the ranks of the millions of Americans who plan on voting for Clinton simply because 'anyone is better than Trump', Moore's reference to Clinton's "mistake" over the Iraq war points to something else going on with the political 'left' in the USA.