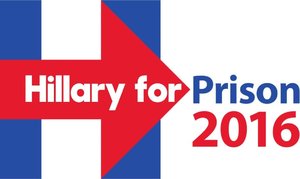 The intensity of anti-Russia rants by Hillary Clinton and her coterie of supporters is flying off the Richter scale. The information war waged by Washington has sought to harm Russia by isolating it, weakening its economy and destabilising its leadership.
The mudslinging rhetoric has become visceral and vicious, with disturbing undertones emerging. Frustrated by the inability to effectively counter Russian media outlets, the proliferation of alternative media voices and Moscow's continued path of independent policy, the accusations have taken on a neo-McCarthyist flavour, which leave a sense of foreboding about brewing censorship and sanction against the voices of reason (i.e. those who don't believe Vladimir Putin is the devil incarnate).
Washington spuriously tells us the Kremlin is engaging in a one-sided information war which is threatening the stability and security of Western states - more precisely, the countries of Europe.
In reality, it is frustrated by a worthy adversary able to counter its gargantuan information war-machine
. If Russia is able to undermine and debilitate the foundations of our democracies, as this fairy-tale says, is it time to clamp down on the army of Kremlin trolls and propagandists?
"The grand Godfather of this global brand of extreme nationalism is Russian President, Vladimir Putin,"
Clinton
said at a recent election rally in Nevada. Fusing Putin to
Donald Trump
as a dastardly duo who threaten the free world, Clinton said Trump will abandon NATO allies, recognize Russia's annexation of Crimea and hand Eastern Europe to Russia to plunder at will.