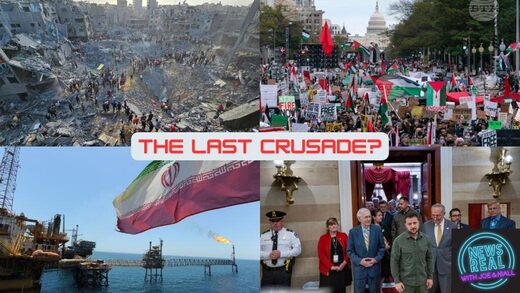 Anglo-American legacy media this week "quietly" announced an "end" to the Ukraine War, informing - correctly, for the first time since February 2022 - Western audiences that Kiev doesn't stand a chance militarily against Russia, that Zelensky is "deluded" and "messianic" about recovering the four provinces lost to Russia, and that American and European leaders have begun pushing him to enter negotiations with Moscow.
So, peace on Earth?!
Given current events in the Middle East, not least the Israeli obliteration of Gaza and the major deployment of US warships and forces in Israel and on the surrounding seas, it's more likely that the US Empire is 'pivoting' from Ukraine only because it considers the job there 'done' and now has bigger goals in sight.
This week on
NewsReal
, Joe & Niall outline the geopolitical contours of the next war for empire and its likely consequences for all. Also, what the heck is Dr. Jordan Peterson even talking about, telling Palestinians to 'shoulder responsibility' for the genocide being waged against them??
Running Time:
01:45:59
Download:
MP3
— 72.8 MB
This podcast is also available to view, share and download on
Rumble
,
Odysee
and
VK
.
Show Notes