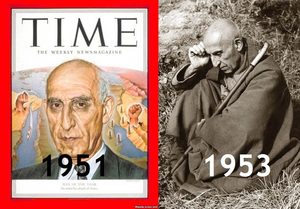 Mohammad Mossadegh, TIME Man of the Year, 1951 after he became the first democratically-elected PM of Iran. On 20 August 1953, he was overthrown in a CIA-MI6 coup and lived out his life under house arrest
Those who are able to see beyond the shadows and lies of their culture will never be understood, let alone believed, by the masses.
- Plato
Recent Comments
Nasa found water on the moon hahahahahahahah - yeah sure - when are they going back to collect 'moon water' - might find it as easy to fake as...
---
Paul Keating - now there was a Real Leader - just look at the conga lines of garbage we have been smitten with since. He was way too good for this...
---
Yep - just try and get your head around the damage that may have been caused if one of those rocks had hit something - maybe a tank or a bulldozer...
---
Ahhhhhhh, where was the 'Trigger Warning' .... had to read that article unsupported (sob)...
---
This poxy force will be used wherever and for whatever their masters, who reside within the capstone, direct them - along with their streaming...