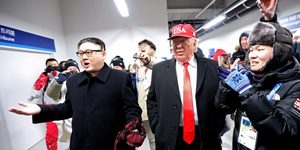 Did The Donald and Rocket Man secretly meet at the Winter Olympics in PyeongChang?
When a man knows he is to be hanged in a fortnight, it concentrates his mind wonderfully.
- Samuel Johnson
Recent Comments
It's one big successful psy-op everyone buying in so eagerly.
---
"Life goes on, long after the thrill of living is gone"....cant imagine why anyone would want to live longer, unless they find a way to make life...
---
I think that Fat Albert's character, The Brown Hornet, would have made a better movie.
---
You did have to include a photo of Brennan and Clapper. Those two would look much better hanging by their necks side by side.
---
For as long as the U.S. has a printing press it will never be bankrupt.