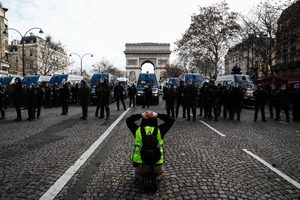 L'elite contre le peuple
No one who lives in error is free.
- Euripides
Recent Comments
A quick fix to this is to outlaw all herbicides. Without cheap chemical poisons farmers will not be able to produce large crops. would be kind of...
---
THE CALL OF THE WILD Feminism, which is a kind of derivative of socialism, (and both being attributable to 'government propaganda and mind...
---
"...where the field is about three times weaker than it is at the poles.". maybe it is like one third as strong? What about the mental capacity of...
---
"....claims that Chinese technology is posing a threat to national security by stealthily introducing spy software into homes and businesses."....
---
Any terrorist act on French ground is a act of support for president Macron.