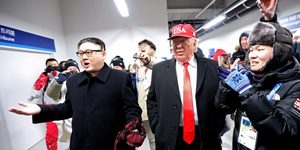 Did The Donald and Rocket Man secretly meet at the Winter Olympics in PyeongChang?
When a man knows he is to be hanged in a fortnight, it concentrates his mind wonderfully.
- Samuel Johnson
Recent Comments
Turkey's biggest potential problem, and Iran's, Iraq's, and Syria's is a Kurdistan. The problems mentioned in this article have a lot of leg room,...
---
Great definitions on paper, unfortunatly it has become something else over time and the list is much longer on the dark side !
---
Q: why is it the Russians (Putin and buddies) love Trump and the far-right conservatives (FRC) so much? I mean, all the articles in SOTT seem to...
---
This article is a clever piece of propagada to paint Russia has having "ambitions" and Iran the same. Another lie to make those apposing the...
---
I have been diagnosed of multiple sclerosis (ms) for 6 years now, i have used so many prescriptions fromm my doctor but never gave me a cure...