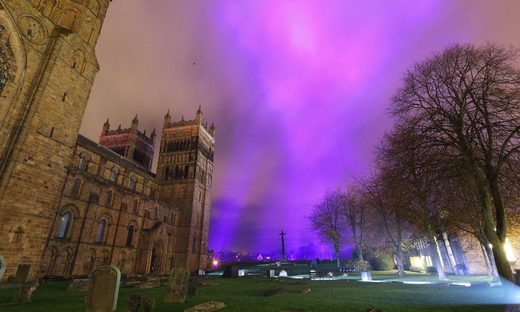 Thursday 16 November 2017 07.00 GMT
As darkness falls on Thursday evening, the bells of Durham Cathedral will ring out across the city - and continue for the next six hours while brilliant flashes light up sections of the enormous building, inside and out. The bellringers will literally be playing the cathedral, sensors on each bell directly triggering the flashes of light, with Cuthbert, the great 17th-century tenor bell, illuminating the central tower.
"It's never been done in the world before,"
the bell major Christopher Crabtree said. "We're excited - but it's going to be hard work."
It's also going to be hard work for any local residents who don't relish
the sound of 6.5 tonnes of bronze sounding for six hours on each of the four nights of the Lumiere festival.
"We are very grateful for the warmth and tolerance of our neighbours," the dean, Andrew Tremlett, said. There will be noisy nights in the deanery yards from the bell tower, but he is full of excitement about the project, which was partly devised in passionate discussions around his table.