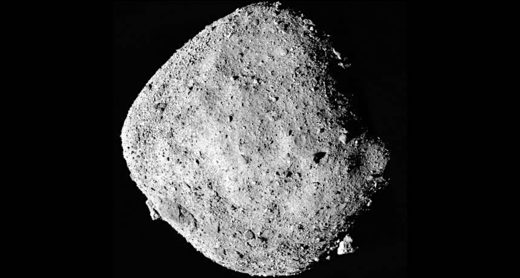 The craft will spend 2019 scoping out the best spot to grab a handful of space rock dust.
As the asteroid Bennu
comes into sharper focus
, planetary scientists are seeing signs of water locked up in the asteroid's rocks, NASA team members announced December 10.
"It's one of the things we were hoping to find," team member Amy Simon of NASA's Goddard Space Flight Center in Greenbelt, Md., said in a news conference at the American Geophysical Union meeting in Washington, D.C.
"This is evidence of liquid water in Bennu's past. This is really big news."
NASA's OSIRIS-REx spacecraft just
arrived at Bennu on December 3
(
SN Online: 12/3/18
). Over the next year, the team will search for the perfect spot on the asteroid to grab a handful of dust and return it to Earth. "Very early in the mission, we've found out Bennu is going to provide the type of material we want to return," said principal investigator Dante Lauretta of the University of Arizona in Tucson. "It definitely looks like we've gone to the right place."
OSIRIS-REx's onboard spectrometers measure the chemical signatures of various minerals based on the wavelengths of light they emit and absorb. The instruments were able to see
signs of hydrated minerals
on Bennu's surface about a month before the spacecraft arrived at the asteroid, and the signal has remained strong all over the asteroid's surface as the spacecraft approached, Simon said. Those minerals can form only in the presence of liquid water, and suggest that Bennu had a hydrothermal system in its past.