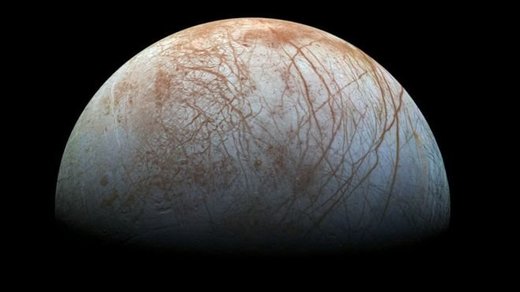 Further evidence has been obtained to show that Jupiter's icy moon Europa throws jets of water out into space.
Scientists first reported the behaviour in 2013 using the Hubble telescope, but have now made a follow-up sighting.
It is significant because Europa, with its huge subsurface ocean of liquid water, is one of the most likely places to find microbial life beyond Earth.
Flying through the jets with an instrumented spacecraft would be an effective way to test the possibility.
One could even attempt to capture a sample of ejected material and bring it back to Earth for more detailed biological analysis.
The alternative - of trying to land on the moon and drill through perhaps tens of kilometres of ice to examine the ocean's water - would be immensely challenging.
Hubble made its latest identification by studying Europa as it passed in front of Jupiter.
The telescope looked in ultraviolet wavelengths to see if the giant planet's light was in any way being absorbed by material emanating from the moon's surface.