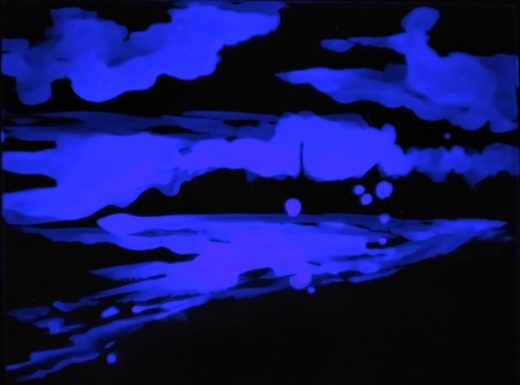 If you google "Quantum Blue," the top results, as of this writing, will all pertain to a 341-foot-long megayacht of that name owned by Russian billionaire Sergey Galitskiy. But that may soon change. In late August, scientists at Lawrence Berkeley National Laboratory in northern California, working with artist
Olga Alexopoulou
and color researcher Maria Chatzidakis, made strides towards developing a new, high-tech pigment dubbed "Quantum Blue."
The new color
uses nanotechnology to achieve an exceptionally pure hue of blue that is best seen under ultraviolet (UV) light
, which gives it an otherworldly, radioactive glow. (Without UV lighting, it has an unremarkable off-white appearance.) The key components of the futuristic blue are quantum dots: tiny semiconductor particles usually measuring no more than one millionth of an inch in size. Quantum dots convert light into color with exceptional speed and clarity, which has already made them
popular
with electronics manufacturers working on the next generation of ultra-high-definition screens. When she learned about quantum dots, Alexopoulou-whose own work involves a lot of blues, especially the historical Prussian blue-wondered whether the nanoscopic technology could be turned into a pigment for artists.
"Blue has a wonderful paradox about it, which is that it's the color that, statistically, most people across many cultures choose as their favorite, even though it's actually the most difficult color for the human eye to see,"
she said. "After working with blue for so many years, it felt like a natural progression to want to create something myself."