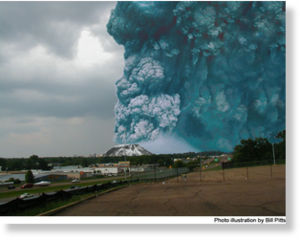 I grew up in a family of "Rockhounds" and amateur geologists; my parents were among the founding members of the Mississippi Gem & Mineral Society. Therefore, my childhood memories don't include a day that I "learned about the volcano." It was always a part of my world, a ghost from the past.
I accepted the fact that I had a volcano underfoot but, for me, the awareness ended there. Growing up with this knowledge, I never thought to question it. Various adult sources placed the throat of the volcano at Fossil Gulch on the Nature Trail in what was then known as Riverside Park, now Lefleur's Bluff State Park in Jackson. Others adults told me that Millsaps College had the eminence of being located directly over the mouth. But try as I could, I never spotted what remained of the volcano's cone; there was no indication of danger underfoot. In my childish imagination, I anticipated a cataclysmic eruption. Needless to say, I was disappointed.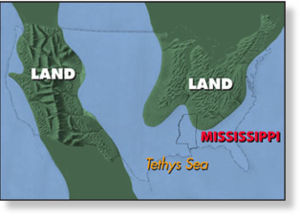 This memory receded with age as other more immediate matters took its place. Then, while finding out why the waters of the Alligator Pond at Leroy Percy State Park are a constant 88° F year-round for another article, I was reminded of our hidden volcano. Dr. David Dockery, Director of the Surface Geology Division of the Mississippi Department of Environmental Quality, Office of Geology, mentioned the Jackson gas field that was discovered in the 1930s. This field, he said, tapped "the Jackson Gas Rock...a reef that grew over the old volcano." The ghost had returned.