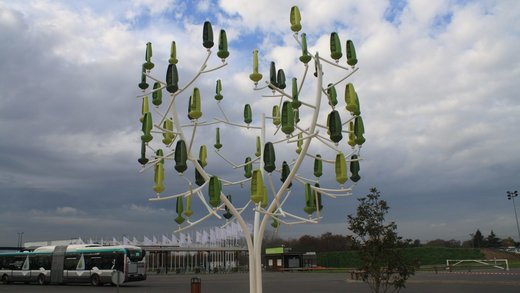 Picture a steady breeze blowing through the leaves of a tree. Now imagine these leaves could do more than simply churn in the current of air—what if they could capture the wind and transform it into renewable energy?
Energy from wind is the
fastest-growing source of electricity
in the world, according to the Union of Concerned Scientists, an environmental and social research institution. This development of wind power has mostly taken place on a large scale, usually by utility companies providing power to a grid of millions of customers. That's because wind energy is most efficient when it's capturing very strong winds, more common in remote areas and at heights greater than 50 feet off the ground. Those turbines need to be as tall as a five-story building, and they take up a lot of horizontal room, too—several hundred feet per turbine,
in many cases
. They also require more maintenance than solar panels.