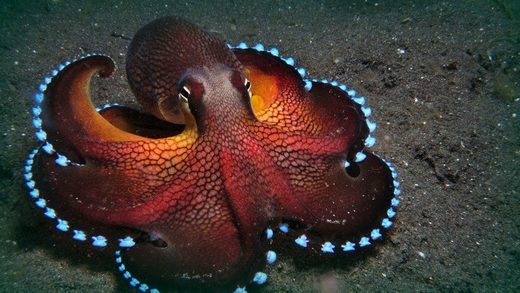 Octopuses are
strange, smart creatures
that certainly
seem
alien-what with the tentacles, camouflage, and shape-shifting skills. Still, the idea that they actually came from outer space would seem to fall strictly into the realm of sci-fi; an update of
HP Lovecraft's Cthulhu
, say.
But in these interesting times, real life reads like fiction. Recently,
a group of 33 scientists worldwide - including molecular immunologist Edward Steele and astrobiologist
Chandra Wickramasinghe
- published a paper suggesting, in all seriousness, that octopuses may indeed be aliens.
The paper, published in the March issue of the the journal
Progress in Biophysics and Molecular Biology
, is controversial, obviously, and the vast majority of scientists would disagree. But the paper is still worthy of discussion-for one, as a thought exercise, because outlandish ideas are often initially rejected. And in provoking us with seemingly bizarre theories, it forces us to acknowledge that
there are aspects of life on Earth for which classic evolutionary theory as yet has no explanation.