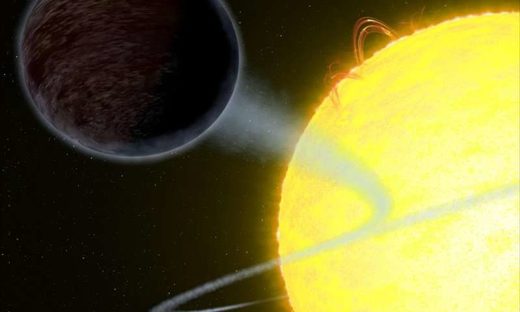 Astronomers have discovered that the well-studied exoplanet WASP-12b reflects almost no light, making it appear essentially pitch black. This discovery sheds new light on the atmospheric composition of the planet and also refutes previous hypotheses about WASP-12b's atmosphere. The results are also in stark contrast to observations of another similarly sized exoplanet.
Using the Space Telescope Imaging Spectrograph (STIS) on the NASA/ESA Hubble Space Telescope, an international team led by astronomers at McGill University, Canada, and the University of Exeter, UK, have measured how much
light
the
exoplanet
WASP-12b reflects-its albedo-in order to learn more about the composition of its atmosphere.
The results were surprising, explains lead author Taylor Bell, a Master's student in astronomy at McGill University who is affiliated with the Institute for Research on Exoplanets: "The measured albedo of WASP-12b is 0.064 at most. This is an extremely low value, making the planet darker than fresh asphalt!"
This makes WASP-12b two times less reflective than our Moon which has an albedo of 0.12
. Bell adds: "The low albedo shows we still have a lot to learn about WASP-12b and other similar exoplanets."