"China will continue to hold high the banner of peace, development, cooperation, and mutual benefit, and uphold its fundamental foreign policy goal of preserving world peace and promoting common development. China remains firm in its commitment to strengthening friendship and cooperation with other countries on the basis of the Five Principles of Peaceful Coexistence, and to forging a new form of international relations featuring mutual respect, fairness, justice, and win-win cooperation."

- Xi Jinping, address to 19th National Congress of the CPC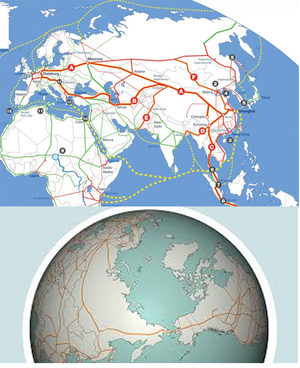 In his
recently translated address
to the 19
th
National Congress of the Communist Party of China, Xi Jinping laid out a grand design and philosophy for short, medium and long-term strategy, for both his country and the world.
1
President Xi not only directly
challenged the underlying morality of post-modernism and neo-liberalism
which has rendered the Western population incapable of planning the future or even maintaining the institutions handed down to us from past generations, but most importantly threw down the gauntlet, challenging the Western powers to release themselves from the ideological crutch of 'geopolitics' and work with China under a new paradigm of 'win-win cooperation'.
Xi Jinping's 'Belt and Road Initiative' and its global manifestations across Africa, Europe and the Americas have been complemented on January 25, 2018 by an extension into the Arctic, dubbed
the Polar Silk Road
. This Arctic extension gave new life to a project which Russian President Vladimir Putin
endorsed as early as April 2007
, known as the Bering Strait Rail Tunnel, connecting the Americas with Eurasia.
2
Up until recently, Western geopoliticians have attempted to dismiss such initiatives as 'fringe concepts' promoted by Lyndon and Helga LaRouche of the Schiller Institute, but today a very different picture has come to light which reveals that this battle between two opposing paradigms goes much further back in history than most people realize and, as such, a need to revisit some forgotten history is in order. It is, after all, due to this potent conception of history as a struggle between two opposing paradigms that the LaRouches and their allies have been able advance such policies mentioned above
for over four decades.