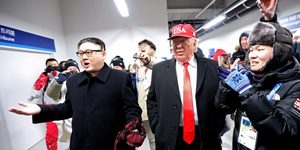 Did The Donald and Rocket Man secretly meet at the Winter Olympics in PyeongChang?
When a man knows he is to be hanged in a fortnight, it concentrates his mind wonderfully.
- Samuel Johnson
Recent Comments
This article is a clever piece of propagada to paint Russia has having "ambitions" and Iran the same. Another lie to make those apposing the...
---
I have been diagnosed of multiple sclerosis (ms) for 6 years now, i have used so many prescriptions fromm my doctor but never gave me a cure...
---
The Chinese and Russians have been studying the 'western system' for some time, i reckon. They know where the weak links are, and know how to...
---
Hey liberal-bashers, bash this: LIBERAL (Definition): 1. favorable to progress or reform, as in political or religious affairs. 2. (often initial...
---
It is copy/paste story what former KGB Yuri Bezmenov, who defected in 1970, teach amerika about USSR. Read description [Link]