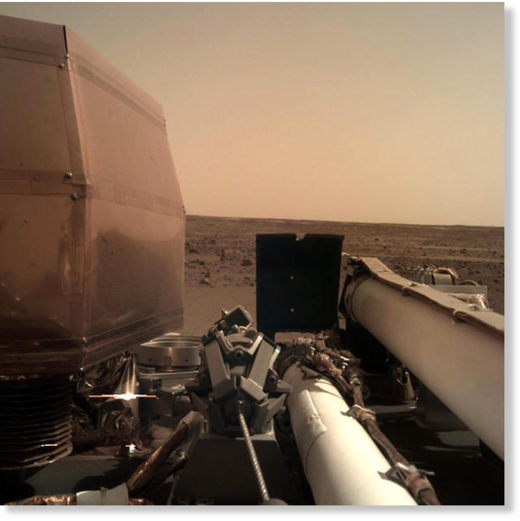 Minutes after
touching down on Mars
, NASA's
InSight
spacecraft sent back a "nice and dirty" snapshot of its new digs. Yet the dust-speckled image looked like a work of art to scientists. The photo revealed a mostly smooth and sandy terrain around the spacecraft with only one sizable rock visible.
Another photo taken by its robotic arm-mounted camera after it landed on the planet shows a close-up of the spacecraft itself.
"I'm very, very happy that it looks like we have an incredibly safe and boring landing location," project manager Tom Hoffman said after Monday's touchdown. "That's exactly what we were going for."
A better image came hours later and more are expected in the days ahead, after the dust covers come off the lander's cameras.
The spacecraft arrived at Mars after a perilous, supersonic plunge through its red skies that took just six minutes.
"Touchdown confirmed!" a flight controller called out just before 3 p.m. EST, setting off jubilation among scientists at NASA's Jet Propulsion Laboratory in Pasadena, California, who had waited in white-knuckle suspense for word to reach across 100 million miles (160 million kilometers) of space.