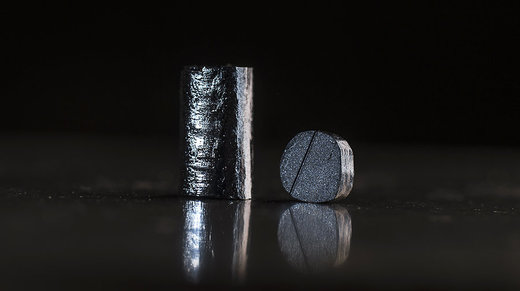 At super-low temperatures, a crystal called samarium hexaboride behaves in an unexplained, imagination-stretching way.
In a deceptively drab black crystal, physicists have stumbled upon a baffling behavior, one that appears to blur the line between the properties of metals, in which electrons flow freely, and those of insulators, in which electrons are effectively stuck in place.
The crystal exhibits hallmarks of both simultaneously.
"This is a big shock," said Suchitra Sebastian, a condensed matter physicist at the University of Cambridge whose findings
appeared today
in an advance online edition of the journal
Science
. Insulators and metals are essentially opposites, she said. "But somehow, it's a material that's both. It's contrary to everything that we know.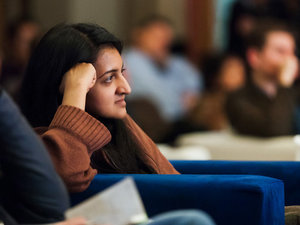 The material, a much-studied compound called samarium hexaboride or SmB
6
, is an insulator at very low temperatures, meaning it resists the flow of electricity. Its resistance implies that electrons (the building blocks of electric currents) cannot move through the crystal more than an atom's width in any direction. And yet, Sebastian and her collaborators observed electrons traversing orbits millions of atoms in diameter inside the crystal in response to a magnetic field — a mobility that is only expected in materials that conduct electricity.
Calling to mind the famous wave-particle duality of quantum mechanics, the new evidence suggests SmB
6
might be neither a textbook metal nor an insulator, Sebastian said, but "something more complicated that we don't know how to imagine."
"It is just a magnificent paradox," said Jan Zaanen, a condensed matter theorist at Leiden University in the Netherlands. "On the basis of established wisdoms this cannot possibly happen, and henceforth completely new physics should be at work."