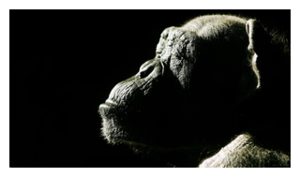 Who knows what Arturo the polar bear was thinking as he paced back and forth in the dark, air-conditioned chamber behind his artificial grotto?
Just down the pathway Cecilia sat quietly in her cage, contemplating whatever chimpanzees contemplate.
In recent years, both creatures, inhabitants of the Mendoza Zoological Park in Argentina, have been targets of an international campaign challenging the morality of holding animals captive as living museum exhibits. The issue is not so much physical abuse as mental abuse — the effect confinement has on the inhabitants' minds.
Last July, a few months after I visited the zoo, Arturo, promoted by animal rights activists as "the world's saddest polar bear," died of what his keepers said were complications of old age. (His mantle has now been bestowed on Pizza, a polar bear
on display
at a Chinese shopping mall.)
But Cecilia (the "loneliest chimp," some sympathizers have called her) has been luckier, if luck is a concept a chimpanzee can understand.
In November, Judge María Alejandra Mauricio of the Third Court of Guarantees in Mendoza
decreed
that Cecilia is a "nonhuman person" —
one that was being denied "the fundamental right" of all sentient beings "to be born, to live, grow, and die in the proper environment for their species."
Agreeing to a petition by animal rights lawyers in Argentina for a writ of
habeas corpus
— a demand that a court rule on whether a prisoner or inmate is being legally detained — the judge ordered that the chimpanzee be freed from the zoo and transferred to a
great ape sanctuary
in Brazil.
In an earlier case, an appeals court in Buenos Aires
upheld a judge's demand
that the city zoo provide an orangutan named Sandra with a way of life consistent with her "well-being, behavioral complexity, and emotional states."
Argentine law applies, of course, only in Argentina. But the decisions in the two cases have been taken as encouragement by activists in other countries. In the United States, the
Nonhuman Rights Project
has been trying for years — so far unsuccessfully — to use
habeas corpus
to free captive chimpanzees from labs and private zoos and have them declared nonhuman persons.