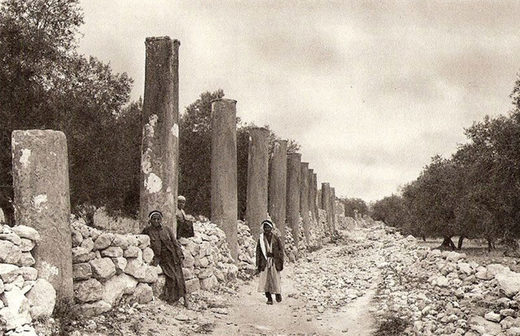 Jezebel - even to this day her name is synonymous with wickedness and promiscuity. She was the most depraved of women, a murderess, an adulteress and worst of all an idolatress. She was so hated by some of the ancient followers of Yahweh that they went out of their way after her death to paint her as all things evil, even going so far as changing her actual title from the Virgin of Baal to the Whore of Baal. But what was it really that caused such a reaction from the followers of Yahweh? How could a mere woman challenge such men of God?
The City of Samaria
The story really begins after the death of King Solomon when the Israelites split into two kingdoms, Israel in the north and Judah in the south. The first king of the north was Omri and he established his capitol in a place called Samaria. Omri built his palace complex on a hill he purchased from a man named Shemer, for which he paid two talents of silver. The ancient city of Samaria today is split between Israeli and Palestinian control and, unfortunately, it is in a precarious state threatened by vandals, robbers, and neglect.
The best-known excavations of the site date from 1908 to 1910 and then again in the 1930's. The Palestinian Department of Antiquities, formed in 1997, is working on protecting and excavating the site with about a dozen digs being conducted, so conditions are improving. This ancient site is one of the most documented by fact in the Bible, as well as the burial place of John the Baptist, Joseph, and ten kings of Israel. Is it the location of this city that has caused its virtual abandonment by archaeologists until recently or is it something more? It seems to have been ground zero for the war between the worshippers of the old goddesses and gods, and the followers of Yahweh, for whom there was no room for other gods, and no amount of violence and treachery was too extreme to achieve their ends. What truths may be buried in the city of Samaria?