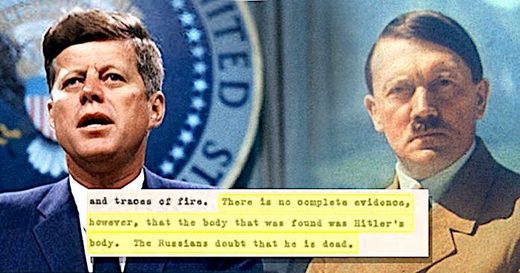 If you aren't convinced, you're in good company — recently revealed documents from a personal journal make candid skepticism from a man who could arguably be termed the Führer's polar opposite — President John F. Kennedy.
While questioning the official narrative pertaining to one of the most opprobrious tyrants in history might not be a comfortable matter, the theory has gained wide traction from a number of reputable sources and analyses in recent years — but, apparently, the beloved former president
harbored qualms
about the April 30, 1945 deaths.
"Hitler's Reich Chancellery was a shell," Kennedy penned in 1945, several years before ascending to the White House.
"The walls were chipped and scarred by bullets, showing the terrific fight that took place at the time of its fall. Hitler's air-raid shelter was about 120 feet down into the ground — well furnished but completely devastated. The room where Hitler was supposed to have met his death showed scorched walls and traces of fire. There is no complete evidence, however, that the body that was found was Hitler's body. The Russians doubt that he is dead."
That Kennedy and Hitler share in common entire tomes positing theories on their lives and the manner of their deaths makes the former president's skepticism on the latter's dubious demise an especially fitting observation.