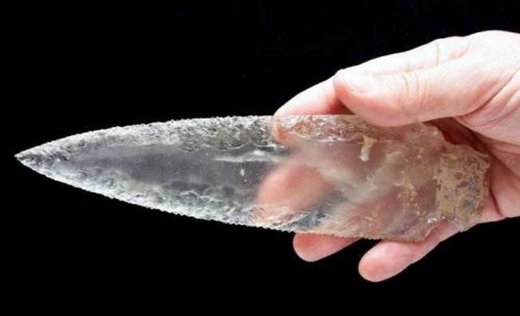 Even in modern times we are fascinated by crystals - from the diamonds we use as a sacred symbol of partnership, to the plethora of 'healing' gems that can be found in a New Age gift shop. So we can only imagine how ancient people viewed these transparent rocks with hidden structure.
Evidence of the esteem in which crystals were held can be found in a "remarkable set" of 'crystal weapons' found in the megalithic tombs of southwestern Spain. At the site of Valencina de la Concepcion, archaeologists have uncovered crystal arrowheads, an exquisite dagger blade, and cores used for creating the artifacts, that date to the 3rd millennium BCE.
The Montelirio tholos, excavated between 2007 and 2010, is "a great megalithic construction...which extends over 43.75 m in total", constructed out of large slabs of slate. At least 25 individuals were interred within the structure , along with "an extraordinary set of sumptuous grave goods...the most notable of which is an unspecified number of shrouds or clothes made of tens of thousands of perforated beads and decorated with amber beads". Additionally however, a large number of crystal arrowheads were found together, which be suggestive of a ritual offering at an altar. The arrowheads have the characteristic long lateral appendices of flint arrowheads from the area - but investigators remarked that "even greater skill must have been required to produce these unique features when using rock crystal."