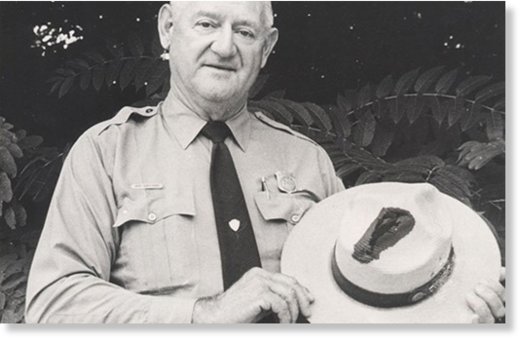 In 1977 there was a mobile home off Route 340 near Dooms strangely covered with 12 lightning rods, affixed to all four corners of the trailer, on the TV antenna, the electric meter and in six of the taller nearby trees. Each was heavy gauge no. 6 copper wire, grounded on spikes sunk seven feet in the ground.
There was good reason for this eccentric arrangement; the trailer owner, retired Shenandoah Park Ranger Roy C. Sullivan, had already been struck by lightning seven times, and still had one more to go, earning a dubious world record that stands today.
"Some people are allergic to flowers," Sullivan told a Waynesboro
News-Virginian
reporter in June, 1977, "but I'm allergic to lightning."
Born February, 1912 in Greene County, Sullivan's legacy began in the 1920s. As he helped his father cut wheat, lightning struck his scythe, knocking him to the ground and setting the field on fire.
He had no idea what was still to come.