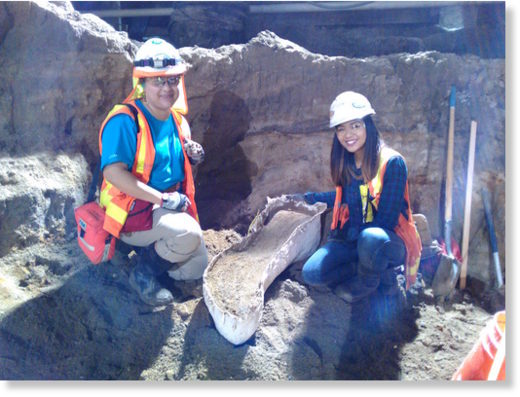 The discovery of ice age mammal bones — one belonging to an extinct camel and the other to either a mastodon or a mammoth (it's hard to say which) — temporarily stopped construction of Los Angeles' subway line extension last month.
Paleontologists found the fossils just down the street from the La Brea Tar Pits in L.A.'s Miracle Mile district, where a future subway station will be built. On April 12, scientists discovered the camel bone, and on April 13, they uncovered the bone of the proboscidean (the ancient elephant relative).
"It's one thing to read in a history book that these animals used to live all over North America, but it makes it more real when they're found in your city," said Ashley Leger, the paleontological field director for Cogstone Resource Management Inc., a company that surveys sites for paleontological and archaeological remains before construction projects begin. "[For] the people of Los Angeles, this is their history. This is what lived there thousands of years before they were ever there."