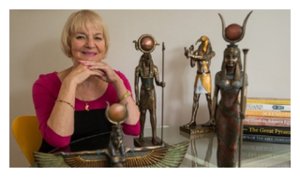 Fair-haired Egyptian mummies were natural blondes, according to a Melbourne researcher who has blown open the urban myth surrounding the appearance of some of the youngest mummified Egyptians.
Forensic egyptologist Janet Davey said while the blonde locks, brows and eyelashes were hard to miss on the mummified remains of ancient Egyptian children, many egyptologists believed the hair had lightened during the mummification process.
To solve the ancient mystery, Dr Davey from the
Victorian Institute of Forensic Medicine
decided to do her own experiments and called on her friend, retired industrial chemist Alan Elliott.
Mr Elliott prepared a quantity of synthetic natron, a kind of salt used in the
mummification process
to dry out the remains.
Dr Davey then took 16 hair samples and covered them in the salty powder for 40 days, the same amount of time the ancient Egyptians took to dry out the bodies with natron.
The hair samples selected were dark, with one grey and one fair specimen for comparison. They came from male and female donors aged four to 92.
Dr Davey also used hair with henna on it, given this was used as a dye by the ancient Egyptian embalmers including those who worked on Ramesses II following his death, aged 90.