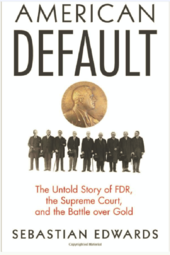 One of the most pervasive myths about the United States is that the federal government has never defaulted on its debts. There's just one problem: it's not true, and while few people remember the "gold clause cases" of the 1930s, that episode holds valuable lessons for leaders today. - Sebastian Edwards, Project Syndicate, May 21, 2018
My friend, UCLA professor, Sebastian Edwards, is out with a must-read summer book,
American Default: The Untold Story of FDR, the Supreme Court, and the Battle over Gold.
Sebastian has also published an excellent synopsis of the the book,
Learning from America's Forgotten Default
, on the
Project Syndicate (PS) website
. It is an excellent introduction to the subject material but only scratches the surface and should not be a substitute or excuse for not purchasing the book.