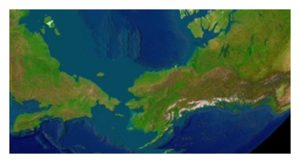 University of Virginia linguistic anthropologist Mark A. Sicoli and colleagues are applying the latest technology to an ancient mystery: how and when early humans inhabited the New World.
Their new research analyzing more than 100 linguistic features suggest more complex patterns of contact and migration among the early peoples who first settled the Americas.
The diversity of languages in the Americas is like no other continent of the world, with eight times more "isolates" than any other continent. Isolates are "languages that have no demonstrable connection to any other language with which it can be classified into a family," Sicoli said. There are 26 isolates in North America and 55 in South America, mostly strung across the western edge of the continents, compared to just one in Europe, eight in Africa[?] and nine in Asia.
"Scientists in the past few decades have rethought the settlement of the Americas," Sicoli said, "replacing the idea that the land which connected Asia and North America during the last ice age was merely a 'bridge' with the hypothesis that during the last ice age humans lived in this refuge known as 'Beringia' for up to 15,000 years and then seeded migrations not only into North America, but also back into Asia."
In a Feb. 17 presentation to the annual meeting of the American Association for the Advancement of Science in Boston, Sicoli will join other scientists discussing "Beringia and the Dispersal of Modern Humans to the Americas." Since much of Beringia, theorized to have been located generally between northwest North America and northeastern Asia, has been under water for more than 10,000 years, it has been challenging to find archaeological and ecological evidence for this "deep history," as Sicoli calls it.
Recent ecological, genetic and archaeological data support the notion of human habitation in Beringia during the latest ice age. The new linguistic research methods, which use "big data" to compare similarities and differences between languages, suggest that such a population would have been linguistically diverse, Sicoli said.