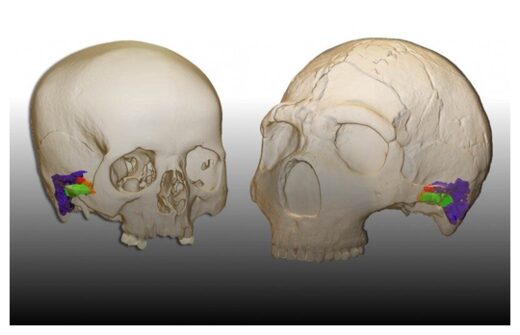 Neanderthals — the closest ancestor to modern humans — possessed the ability to perceive and produce human speech, according to a new study
published by an international multidisciplinary team of researchers including
Binghamton University Associate Professor of Anthropology Rolf Quam
and graduate student Alex Velez.
"This is one of the most important studies I have been involved in during my career," said Quam. "The results are solid and clearly show the Neanderthals had the capacity to perceive and produce human speech. This is one of the very few current, ongoing research lines relying on fossil evidence to study the evolution of language, a notoriously tricky subject in anthropology."
The evolution of language, and the linguistic capacities in Neanderthals in particular, is a long-standing question in human evolution.
"For decades, one of the central questions in human evolutionary studies has been whether the human form of communication, spoken language, was also present in any other species of human ancestor, especially the Neanderthals," said coauthor Juan Luis Arsuaga, professor of paleontology at the Universidad Complutense de Madrid and co-director of excavations and research at the Atapuerca archaeological sites in northern Spain. The latest study has reconstructed how Neanderthals heard to draw some inferences about how they may have communicated.