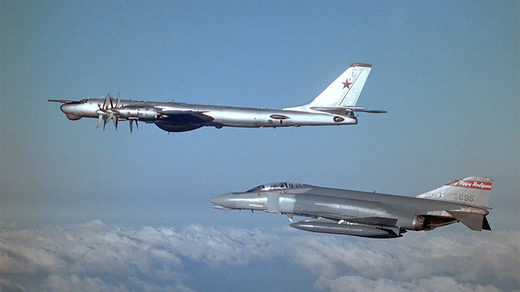 An aviation blog has posted a photo of a US AF F-4 jet flying upside down as it intercepts a Soviet Tu-95 strategic bomber. The story behind it is one of how mid-air encounters now deemed "unsafe" were once regarded as professionals having a bit of fun.
The picture was
published
by the popular military aviation blog
The Aviationist
on December 4 as an illustration of how the definition of recklessness has changed since the Cold War. Maneuvers like barrel rolls or aggressive turns during interception missions are now usually branded by the Pentagon as "unprofessional" or "unsafe"
if performed by Russian or Chinese pilots
responding to American aircraft.
But a few decades ago such stunts were quite routine and not perceived as anything dangerous.
Military aviation blogger David Cenciotti cited a US spy plane veteran pilot calling such episodes "ho-hum." He added that American pilots actually behaved in the same manner, as evidenced by the photo with the 'Phantom' flying upside down alongside the 'Bear.'