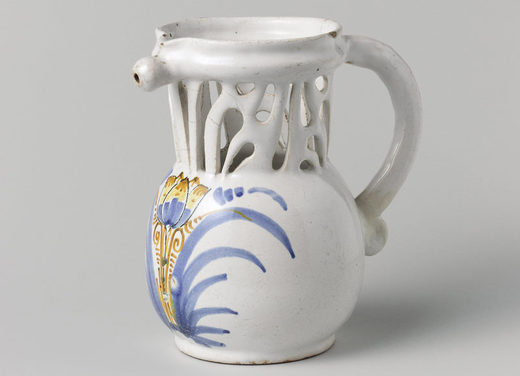 What's more fun than drinking alcohol in a pub? Guzzling it down after satisfactorily solving a puzzle, of course. In the 16th-19th centuries, Western European drinkers enjoyed playing drinking games with specially built "puzzle jugs."
A puzzle jug, shaped with a bulbous middle and slender head, was a multi-spouted decanter. The challenge for the drinker was to figure out how to drink the alcohol inside without spilling any.
Multiple
holes
or
spouts
opened up onto
hollow
chambers
with liquid inside them, and drinkers would have to plug some of them to
prevent
spills. But how did it work? Antiques expert Robert Aronson
noted
that "the hollow handle ... forms a siphon from the lower body," but the suction from the hollow handle was "broken by a small hole beneath the top of the handle."
That
secret
hole was the most important of all; hidden away from public view, that was the one the drinker had to cover "in order to create the vacuum
that allows him to suck the liquid from the jug up through the handle, around the rim and out through the one functioning nozzle."