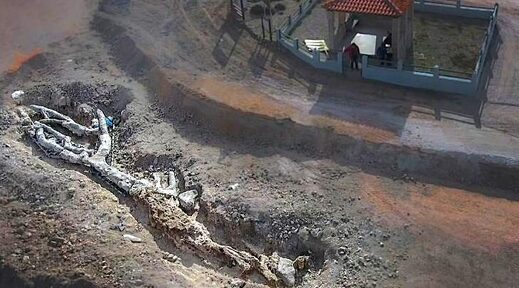 Lesbos' Petrified Forest
was formed when a volcano exploded in the island's north, covering the entire area with ash and lava. The area, which spans 15,000 hectares,
is renowned for its vivid and colorful fossilized tree trunks.
Experts have made an "extraordinary" discovery of a tree which is still intact after being petrified by a volcanic eruption 20 million years ago in Greece.
The huge tree measured 19.6 meters (21.4 yards) -- complete with branches and a root system
--was discovered during in an excavation along the Kalloni-Sigri highway.
Nickolas Zouros, a professor of geology at the University of the Aegean, had been excavating the fossilized forest ecosystem but told CNN
he had never uncovered such a find
. Experts have found numerous examples of vegetation including conifers, fruit trees and oaks. Zouros added:
"We have a lot of findings over these years but the latest ones are the most important -- really extraordinary. This is not something very often found in excavations. We usually find logs without branches and roots. It's the only one found in the excavation found with the branches, the root system, and was found on a layer full of leaves -- we have all the organs of the tree in the regional system. This is unique, until now -- we have been excavating for 25 years and have never found such a tree."
Conifers, fruit producing trees, sequoia trees, pine, palm, cinnamon and oak trees are among the specimens uncovered in the petrified forest.