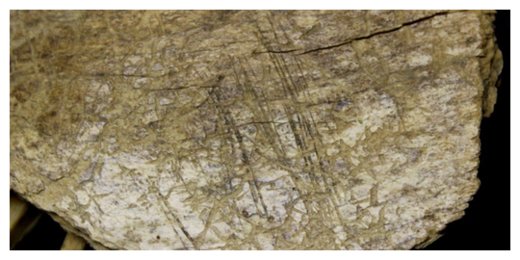 About 24,000 years ago, when much of North America was buried under the ice of the Last Glacial Maximum, a few hunters took shelter in a small cave above the Bluefish River in what is now northwestern Yukon. The hunters had killed a
Yukon horse
and were butchering it using super-sharp stone shards called microblades. As they sliced out the horse's meaty tongue, the microblades left distinctive cuts in its jaw bone. Millennia later, archaeologist and doctoral candidate
Lauriane Bourgeon
spotted those marks through her microscope at the University of Montreal and added the fragment of ancient jaw bone to her small selection of samples for radiocarbon dating.
The bones came from excavations led by archaeologist Jacques Cinq-Mars between 1977 and 1987 and have been in storage at the Canadian Museum of History in Gatineau, Quebec.
At the time, Cinq-Mars and his team concluded that the
Bluefish Caves
showed evidence of occasional human use as much as 30,000 years ago. That is so much older than anything else found in the Americas that Cinq-Mars's conclusions were widely disputed, and the three small caves were largely left out of discussions about the peopling of the Americas.
Read more at Hakai Magazine