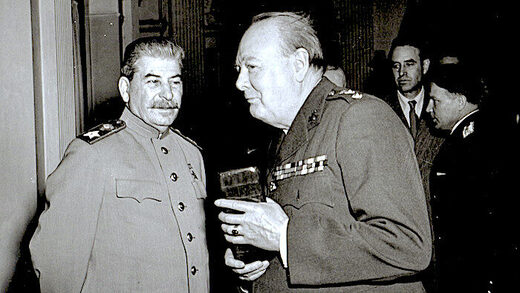 America's sudden love affair with Ukrainian President Vladimir Zelensky and Kiev's military forces is reminiscent of an old campaign to exalt a previous ally of geopolitical circumstance:
Soviet dictator Joseph Stalin.
Just as in the Georgian strongman's heyday, the US political establishment and media-entertainment complex have responded to a crisis in Eastern Europe by portraying their preferred combatants
as heroic friends who must be supported.
In fact,
Zelensky and his country's defenders have been painted as freedom fighters battling to save democracy from evil aggressors
- even as Kiev bans opposition parties, shuts down media outlets, and otherwise silences critics of the regime.
For instance, outlets such as Newsweek and the Associated Press have touted Zelensky as
a "defiant hero" and a "modern Churchill."
The comparison to former UK Prime Minister Winston Churchill wasn't sufficiently glowing for CNN, which said Zelensky is a
"more unlikely hero."
After all, the liberal network
argued
, Churchill was "an imperialist rather than a pure believer in democracy."
Zelensky,
despite taking such actions as arresting the main opposition party's leader and banning critical TV and online outlets,
apparently qualifies as a greater democrat than a man who lost office, by the ballot box, shortly after his greatest victory.