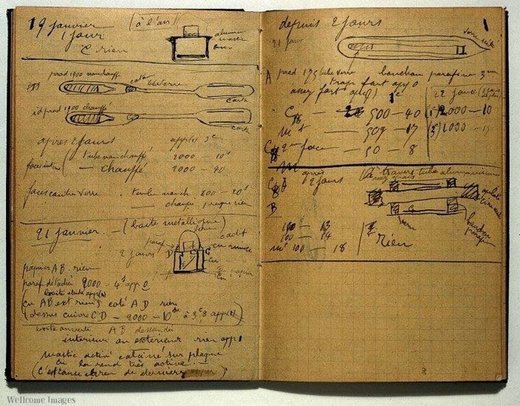 When researching a famous historical figure, access to their work and materials usually proves to be one of the biggest obstacles. But things are much more difficult for those writing about the life of
Marie Curie
, the scientist who, along her with husband Pierre, discovered polonium and radium and birthed the idea of particle physics. Her notebooks, her clothing, her furniture, pretty much everything surviving from her Parisian suburban house, is radioactive, and will be for 1,500 years or more.
If you want to look at
her manuscripts
, you have to sign a liability waiver at
France's Bibliotheque Nationale
, and then you can access the notes that are sealed in a lead-lined box. The Curies didn't know about the dangers of radioactive materials, though they did know about radioactivity. Their research attempted to find out which substances were radioactive and why, and so many dangerous elements - thorium, uranium, plutonium - were just sitting there in their home laboratory, glowing at night, which Curie thought beautiful, "like faint, fairy lights," she wrote in her autobiography. Marie Curie carried these glowing objects around in her pockets. She and her husband wore standard lab clothing, nothing more.
Marie Curie died at age 66 in 1934, from aplastic anemia, attributed to her radioactive research. The house, however, continued to be used up until 1978 by the Institute of Nuclear Physics of the Paris Faculty of Science and the Curie Foundation. After that it was kept under surveillance, authorities finally aware of the
dangers inside
. When many people in the neighborhood noticed high cancer rates among them, as reported in
Le Parisien
, they blamed the Curie's home.