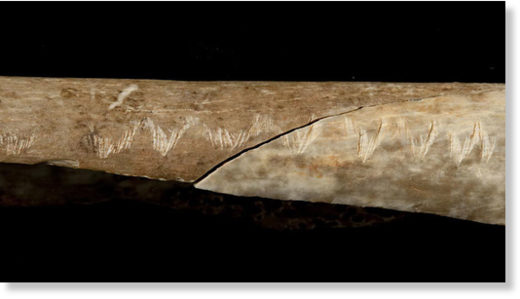 Prehistoric cannibals who once lived in a Somerset cave engraved human bones with zig-zag designs as part of a "complex" eating ritual, according to new research.
The bones, which had a number of deliberate cuts and human teeth marks, were discovered at Gough's Cave in the Mendip Hills and are believed to be between 12,000 and 17,000 years old - when the cave was occupied by Ice Age Britons.
Scientists from the Natural History Museum in London and University College London (UCL)
compared hundreds of cut-marks found on human and animal bones in the cave. They discovered one human body with the bones separated, filleted, chewed and then marked with a zig-zag design, before it was finally broken to extract the bone marrow.
Researchers ruled out an initial theory that the marks were made during the butchery process, because they were found on a part of the bone with no muscle attachments. There is no indication on the skeletons that the humans had suffered violence before they died.