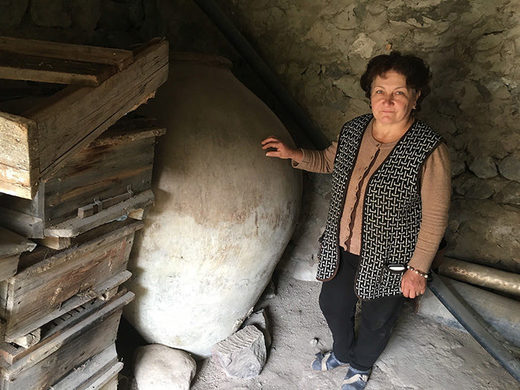 The enormous 240-gallon clay vessel, or
karas
, was nestled snugly in the corner of Asli Saghatelyan's
maran
(storage cellar) in Chiva, a modest village in the Vayots Dzor region of Armenia. Asli and her son Mushegh watched with curious faces as I beheld their egg-shaped earthenware with awe.
The Saghatelyans no longer use this forlorn family heirloom, the girth of which exceeds the width of the door's frame. It belonged to the family's now-deceased patriarch, who used it to make homemade wine through a traditional process of fermentation and storage that people in this region have used for millennia. At one point, the family possessed at least five of them. Today only two are still intact.
This scene of giant karases, now sitting dusty and idle for decades in the basements of Armenia's villagers, is a strangely common one in this particular region. The villagers don't use them anymore, but the pots are so large they cannot be transported it out of their homes without the karas being smashed, or the wall of the basement being demo-ed. You can imagine the residents of Chiva rarely choose the latter option.