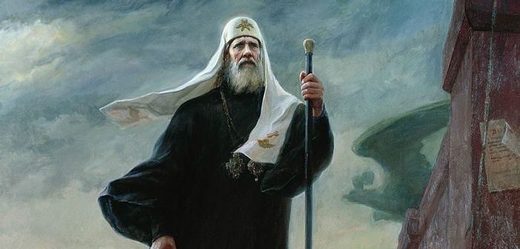 This article appeared on a new site about the Christian renaissance in Russia, called Russian Faith. Their introductory video is at end of this article.

Patriarch Tikhon was head of the Russian church during the revolution, and courageously condemned what he saw as a demonic attack on a Christian civilization. Previously he had been a bishop in the US, from 1898 - 1907, where he was a very successful missionary.

The first Bolshevik government, which consisted mostly of atheist Jews, tolerated the popular Patriarch for a while, realizing that if they martyred him, it would only increase the church's influence, but eventually, they pushed him out, put him under house arrest, and demonized and harassed him until his death in 1925. The Russian church made him into a saint in 1989.

This remarkable letter survives as a testimony of what was really happening in Russia at the time, and to the extraordinary courage of this man to speak the truth, knowing it would cost him his life.

It is all the more important because the accounts to the West that came out of Russia at the time, and subsequent histories, were mostly written by left-leaning sympathizers who cheered the revolution on, having little idea what it really was. This obfuscation continues to this day.

Take a few minutes to read this passionate and poetic condemnation of evil. Its startling clarity comes down to us through the years with great force. We highlighted a few of the more moving lines, but honestly, almost every sentence is gripping.

This view of what actually happened during the revolution is as important today as it was 100 years ago. The 100-year commemoration of the Russian revolution shows starkly divergent views of what it was to our own day.

This excellent translation is by Nun Cornelia Rees.