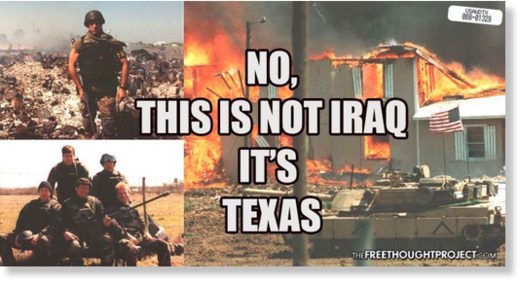 Americans are up in arms over the alleged gas attack in Syria. Although there was no investigation, and many high-profile individuals have called it a sham, the US has pinned the blame on Syrian president Bashar Al Assad. So, we thought it would be a good idea to remind our fellow Americans of an occasion where the federal government got away with gassing its own people, an action which, consequently, led to the deaths of 86 men, women, and children. It all came to a violent end 24 years ago today, in Texas.
Our source material comes from the FBI's own
vault
, which contains two files on the case against Vernon Howell, also known as David Koresh. Koresh was the leader of the "Branch Davidians Seventh Day Adventists." According to the FBI case file, Koresh was believed to have been holding people against their will at his compound in Waco, Texas, potentially guilty of "involuntary servitude and slavery" charges.
In 1992, Child Protective Services (CPS) was called in to investigate the accusations. After a thorough investigation, CPS concluded no one was being held at the compound against their will, nor any child abuse, and the federal prosecutor, who reviewed the report, saw no reason to prosecute Koresh. On October 16th, 1992, the FBI closed the case against Koresh and the allegations he was abusing children and holding his followers against their will.