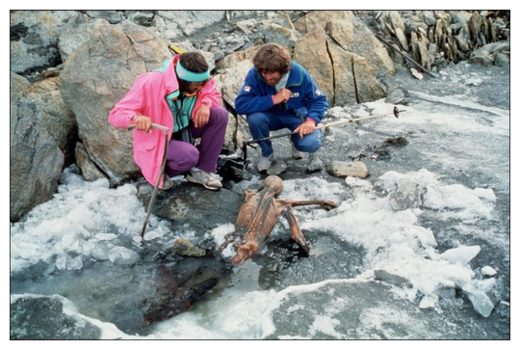 After 5,300 years, Ötzi the Iceman continues to divulge secrets. Archaeobotanists recently identified
seventy-five different species of mosses and liverworts (a non-vascular plant similar to moss) that were sprinkled on the neolithic man's clothing, sequestered in his gut, and buried
in the icy gully where he lay for millennia after his murder by the Schnalstal/Val Senales glacier in the Ötzal Alps. Many of these bryophtyes — another term for mosses and liverworts — are not local to the spot where the Iceman was found, and reveal information about his movements in the final forty-eight hours of his life. A study detailing the new findings was
published
this past fall in the open-access journal
PLOS ONE
.
When the Iceman (also nicknamed Ötzi after the Ötzal Alps where he was found) was discovered by two hikers in South Tyrol, Italy in 1991, he was laying face down in a frozen gully.
He had been killed over five thousand years prior —
shot through
the back with an arrow
— but the glacier's ice preserved his corpse.
Also captured in the ice around his shriveled body was a menagerie of neolithic plants and fungi.