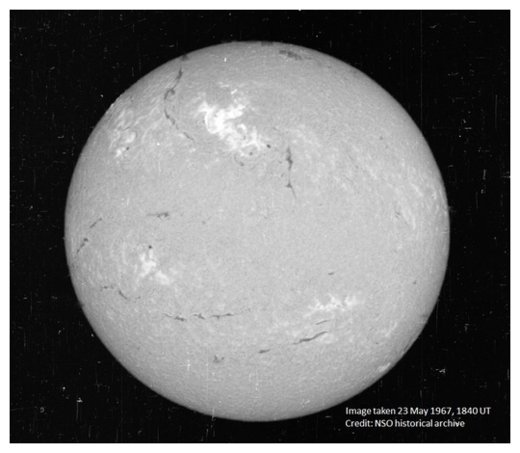 The Cold War was filled with nuclear annihilation close-calls: There was the '62 Cuban Missile Crisis, the NORAD Computer Glitch in '70, the Nuclear False Alarm of 1983, and likely many we'll never know about. But there's one incident that has gone under the radar for decades. A
new paper
to be published in the journal
Space Weather
finally
paints a detailed portrait of a 1967 solar storm that almost spurred the U.S. Air Force to attack the Soviet Union and potential ignite World War III.
Here's the deal: On May 23, 1967, the United States noticed its surveillance radars the near poles were jamming up. Naturally, defense officials assumed it was the Soviet Union preparing to attack American soil — so the Air Force began to make its own preparations to strike the Russians.
Problem was, the Russians were
not
to blame. The culpable party was the sun, which was in the midst of a particularly nasty solar storm. When the sun is producing major flares, the resulting energy can charge up nearby particles and cause electromagnetic disturbances that affect the ionosphere — the part of the Earth's atmosphere that helps propagate radio wave emissions over large distances.
Although solar activity was still not widely understood, by the 1950s the U.S. military knew how eruptions on the surface the sun could hamper communications on Earth. By the following decade, the Air Force established the
Air Weather Service
to regularly monitor the sun for solar flares.