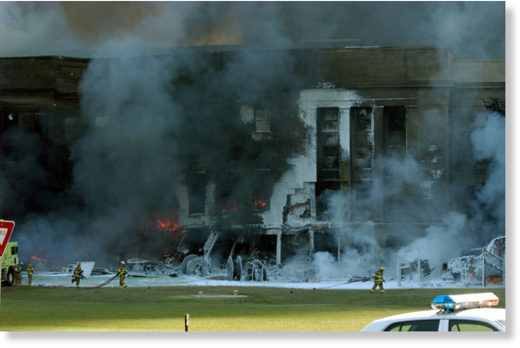 Flight 77 took off at 8:20 a.m.
The pilot had his last routine communication with the control tower at 8:50 a.m. "At 9:09 a.m., being unable to reach the plane by radar, the Indianapolis air controllers warned of a possible crash," the Washington Post reported. Vice-President Dick Cheney would later explain that the terrorists had "turned off the transponder, which led to a later report that a plane had gone down over Ohio, but it really hadn't." [Meet the Press, NBC, 16 Sept 2001]
On 12 September it was learned that the transponder had been cut off at about 8:55 a.m., rendering the plane invisible to civilian air controllers. During this period of invisibility, the plane was said to have made a U turn back to Washington. This is, of course, an assumption. The information that the plane turned around has no known source.
The problem is: turning off the transponder, under the conditions that prevailed that day, would have been the best way of raising an alert.