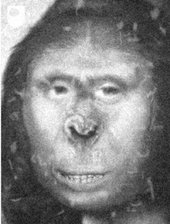 The Discovery of Zana
The year is 1850. The place is the Ochamchir region of Georgia in Russia. A group of local hunters are prowling through the forests in search of whatever they can find - What they DO eventually find, shakes their beliefs to their foundations and leaves the world with an enigma that has yet to be explained.
What they saw appeared to be human -
and yet not human
. It seemed to be young and female with ape-like features. Her arms,legs,and fingers were unusually thick. her bosom was described as "Massive" and she was covered with thick dark hair. She was also said to be absolutely ferocious, nevertheless, the hunters managed to capture her alive and brought her to the isolated mountain village of T'khina fifty miles from Sukhumi, where she was given to a nobleman called Edgi Genaba.
So violent and ferocious was she, that for the first three years after her capture she was kept in a cage where she dug herself a hole to sleep in. The village people were terrified of her rages and would not venture near - food was thrown to her.
Over the course of time, she became tamer and eventually, domesticated. She was given the name Zana, and was moved to a wattle enclosure, tethered at first but later was released and allowed to roam free, but she never wandered far from the place where she was fed. She eventually learned some simple tasks such as grinding corn and carrying wood, but never mastered a single word of speech, her only utterances being grunts and - if angered - howls.
The women of the village remained scared of her - she could be ferocious and bite when angry - and would only come near if she was in a happy mood. Her Master Edgi Genaba, however could control her and she would react with fear if he shouted at her..