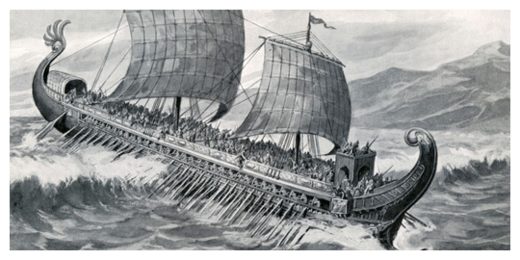 The story of the European settlement of North America usually features a few main characters: red-headed Norsemen who sailed across an icy sea to
set up temporary outposts
, Spanish conquistadors, white-collared English separatists, French trappers, and Dutch colonists. Now a team of Greek scholars proposes another-and much earlier-wave of European migration:
the Hellenistic Greeks, in triremes powered by sail and oar in the first century CE, nearly a millennium before the Vikings.
These ancient Greeks regularly visited what is now Newfoundland, the study's authors say. They set up colonies that lasted centuries, and they mined gold. They made recurrent trips every 30 years. Some travelers would return home after only a brief stay, but for others the voyages were one way-they came to know the North Atlantic, not the warm Aegean, as their home waters.
To be clear, there is no firm evidence of the ancient Greeks' purported voyages. There are no known physical remains of these historic Greek settlements in North America, nor are there first-hand descriptions of such journeys in anything but one account from antiquity. The idea is based entirely on a new examination of a dialogue written by the influential Roman author
Plutarch
, who lived from 46 to 119 CE.
"Our intention is to prove, with modern science, that it was possible for this trip to be made," Ioannis Liritzis, an archaeologist at the University of the Aegean who proposed that the ancient journeys took place, wrote in an email.
Liritzis presents his argument in a new paper
, co-authored with astronomer Panagiota Preka-Papadema, philosopher Konstantinos Kalachanis, meteorologist Chris G. Tzanis, and information technology consultant Panagiotis Antonopoulos.
Greek historians and maritime archaeologists are wary, however. Several people contacted for this story say Liritzis's claims are unfounded, and unlikely at best.