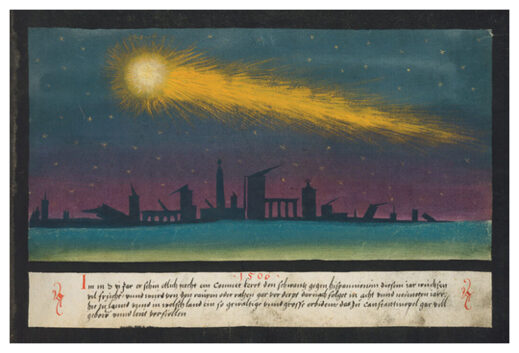 Nowadays, the appearance of a comet, like
the recently soaring NEOWISE
, is likely to inspire wonder and excitement.
But for much of human history, a comet was more likely to inspire blood-curdling fear.
"
Almost always in classical times comets were regarded as portents
, generally as warnings of dire events,"
writes historian Duane Koenig. (They were also sometimes "harbingers of happy things," like the birth of heroes, prophets, or kings.)
Ancient records show that thousands of years ago, "Persians and Koreans viewed comets as of evil nature and often [announced] war with the country in whose direction the tail pointed," writes Koenig. Over in Rome, comets were an object of fear and worship. Historian Geraldine Herbert-Brown finds that Pliny the Elder paid "
particular attention to comets
, and the terror they had caused humans in the course of history." According to Pliny, a comet would appear at "crucial intervals" starting in 49 BCE, "glaring terribly when Nero succeeded Claudius, and then continuously throughout Nero's principáte."
Comets — also called "bearded stars" — were consistently seen as bad news for rulers. Around 70 CE, the Roman emperor Vespasian was cautioned about a comet. "He contended the bearded star did not concern him because he was bald. It threatened his neighbor, the king of the Parthians, who was hairy," writes Koenig.