A new study featured on the 6 May cover of
Nature
by an international team of researchers details the
earliest modern human burial in Africa.
The remains of a 2.5 to 3 year-old child were found in a flexed position, deliberately buried in a shallow grave directly under the sheltered overhang of the cave. The interment at Panga ya Saidi joins increasing evidence of early complex social behaviours in
Homo sapiens.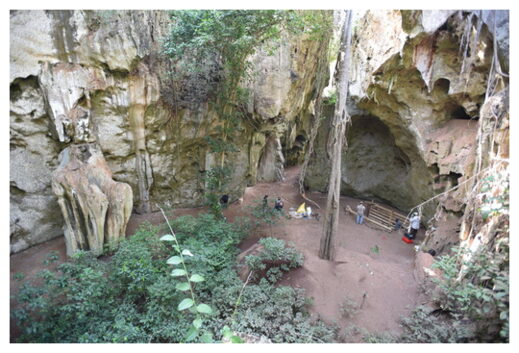 Despite being home to the earliest signs of modern human behaviour,
early evidence of burials in Africa are scarce and often ambiguous.
Therefore, little is known about the origin and development of mortuary practices in the continent of our species' birth. A child buried at the mouth of the Panga ya Saidi cave site 78,000 years ago is changing that, revealing how Middle Stone Age populations interacted with the dead.
Panga ya Saidi has been an important site for human origins research since excavations began in 2010 as part of a long-term partnership between archaeologists from the Max Planck Institute for the Science of Human History (Jena, Germany) and the National Museums of Kenya (Nairobi).
"As soon as we first visited Panga ya Saidi, we knew that it was special," says Professor Nicole Boivin, principal investigator of the original project and director of the Department of Archaeology at the MPI for the Science of Human History. "The site is truly one of a kind. Repeated seasons of excavation at Panga ya Saidi have now helped to establish it as a key type site for the East African coast, with an extraordinary 78,000-year record of early human cultural, technological and symbolic activities."