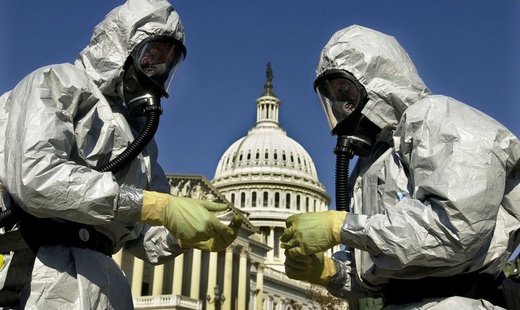 President Richard Nixon
ordered
the destruction of all US biological weapons in 1969
. His White House declaration, Statement on Chemical and Biological Defense Policies and Programs, declared that
«the United States shall renounce the use of lethal biological agents and weapons, and all other methods of biological warfare. The United States will confine its biological research to defensive measures such as immunization and safety measures».
With that and the ratification of the 1972 Biological Weapons
Convention
by the United States, Soviet Union, and Great Britain, the US biological weapons program came to an end. Or did it?
Pursuant to Nixon's order to end America's biological warfare program, the US Army's Biological Warfare Laboratory at Fort Detrick, Maryland changed its name to the US Army Medical Research Institute of Infectious Diseases (USAMRIID). The facility made headlines in the weeks after the 9/11 attacks when the
weaponized anthrax
strain sent through the US postal system was found to have originated at USAMRIID. A USAMRIID scientist, Dr Bruce Ivins, was named as a «person of interest» in the anthrax attack, even though the Federal Bureau of Investigation (FBI) had scant evidence to charge the scientist. After Ivins allegedly «committed suicide» in 2008, the FBI declared Ivins the chief perpetrator and closed the case.