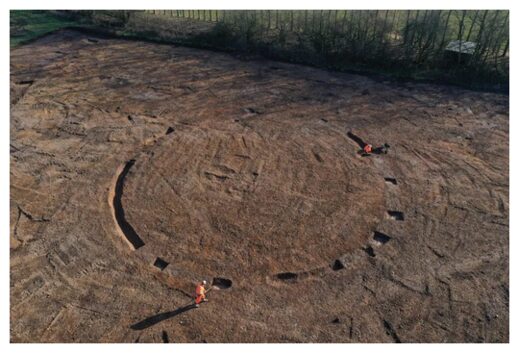 Staff from our Newark office have unearthed some exciting archaeology at a new industrial development at
Dove Valley Park
in Derbyshire, working on behalf of Orion Heritage and Clowes Developments (UK) Ltd.
Cropmarks on aerial photographs
hinted at the presence of several ring ditches and linear ditches on and close to the site.
Our team confirmed the existence of these features through trial trench evaluation. We then conducted a strip, map and sample excavation to fully reveal and investigate the remains, leading to the discovery of a complete ring ditch and a substantial linear ditch.
The ring ditch during excavation, with a possible entrance visible in the foreground. There was at least one re-cutting of the ring ditch, suggesting maintenance and possible longevity of use.