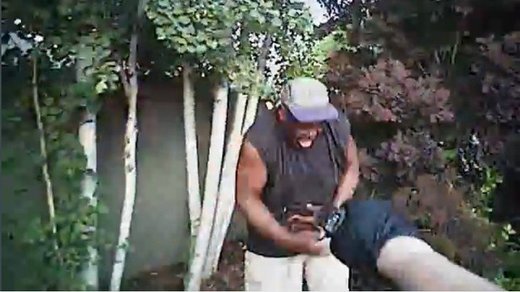 It used to be considered "fighting dirty" if you kicked a man while he was down. But those gentleman's rules don't apply to police officers, apparently, when it comes to resolving conflict with the homeless. They're already down on their luck, many of them, and the very people they trust to keep the peace are often the ones who treat them worst. The latest example of how one can get legally assaulted by the police comes
from Denver, Colorado
.
The incident wouldn't have been provable without the offending officer's
body camera.
But that's all we're able to thank him for. The incident occurred 6/3/16 when police responded to reports of a fight in progress and arrived on the scene to find homeless resident Greg Heard (reportedly fighting with another resident), hiding behind a bush near a property wall. Officers Greg Dulayev and Adrian Enriquez approached Heard.
Dulayev can be heard saying, "Hands up!...Crawl out on your hands and knees. I'll f___ing tase you." It wasn't a "Crawl out on your hands and knees, OR I'll f____ing tase you." It appears from
It appears from Dulayev's own words he already had every intention of deploying his less than lethal device on Heard. Whether or not Heard was guilty of a domestic disturbance is irrelevant. For a White man to demand that a Black man crawl on his hands and knees while at his feet, is humiliating enough. But,
when Heard appeared to attempt to reason with the officers, he was immediately tased without any further talk.