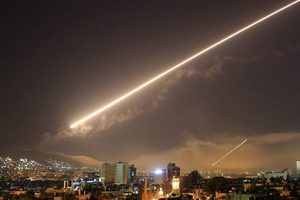 Syrian air defense systems protecting Damascus - the oldest continuously-inhabited city on Earth - from Western airstrikes, 14 April 2018
If you look for truth, you may find comfort in the end; if you look for comfort you will not get either comfort or truth only soft soap and wishful thinking to begin, and in the end, despair.
- C. S. Lewis
Recent Comments
Dude, everyone knows he is Mccains girlfriend...
---
Yeah, that's just water vapor coming out of all those airplanes! According to a "mainstream climatologist" that Dane Wigington...
---
And if the Nazca petroglyphs we've known about for a while weren't enough for you, they just discovered a bunch more
---
Someone should explain to Trump the difference between toughness and recklessness.
---
Worms ? :O I didn't know. Pffeww I've been lucky... Thank god I've never been to Uganda. No but really, what an idiot. Here I am, embarrassed...