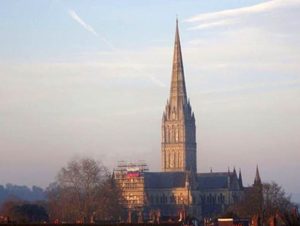 Salisbury Cathedral, 17 February 2019. Did you know? The spire is 123 meters tall, and famous throughout Europe...
When we talk about compassion, we talk in terms of being kind. But compassion is not so much being kind; it is being creative [enough] to wake a person up.
- Chogyam Trungpa Rinpoch
Recent Comments
THE RISE (AND EVENTUAL FALL) OF ZOMBIEDOM This is why I always argue for a thorough participation and involvement with things of the earth (which...
---
I am currently reading The Three Body Problem trilogy, by Cixin Liu. It is science fiction that is actually more about science than a true space...
---
Don't let your mouth make checks your ass can't cash = No fucking need for an online Undertaker. Also this service seems to benefit the living,...
---
Anybody remember Sgt. Bailey? "Hero" cop
---
"avoid eating fat" Idiot.