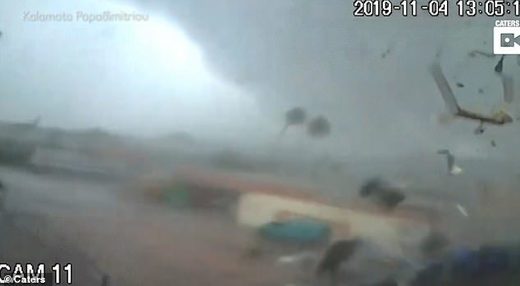 This is the shocking moment a violent tornado almost destroys a factory in
Greece
after shattering windows and ripping off sections of the walls.
The freak storm hit Kalamata in Greece on Monday, causing damage to buildings including the Papadimitriou factory which produces vinegar and olive oil.
Footage from Papadimitriou's security cameras shows the warehouses being torn to shreds by the winds which also battered the vehicles parked outside.
Around 60 workers were inside the factory at the time and went into panic as the weather left a trail of destruction.
The factory owner revealed the devastation lasted around three to four minutes.
He told Alpha TV: 'It was a sudden loud noise and we saw the wind lifting heavy objects of 60 kilos (132lbs). We did not know what to do.'