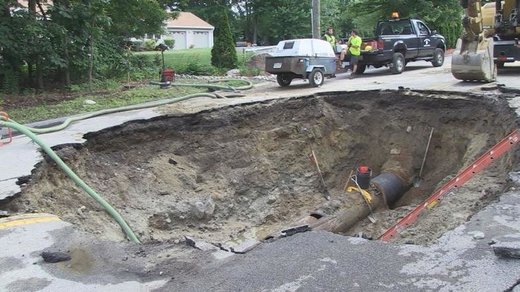 Residents are being asked to be careful with their water usage after a large water main break early Thursday morning.
The break happened on Bridge Street Extension between Christy Lane and Mission Avenue. The road has been closed since.
"It was like whitewater rafting, like a big dam let go. I guess it's one of the bigger ones with a lot of pressure," Christina Fogarty said.
A large pipe and one of the main arteries on Fogarty's Road flooded the entire Manchester neighborhood. One man shot footage on his cell phone of the water bubbling up from the ground just as crews were getting the water under control.
Crews are still trying to identify the cause of the break. "They don't know," said Bruce Gosselin, the field supervisor of Manchester highways. "It could be just a stress crack on a pipe, and it just decided to let go."
The roads buckled, and a sinkhole the size of a small swimming pool opened up as crews worked to repair the pipe and make the road accessible to local traffic. The process could take days.