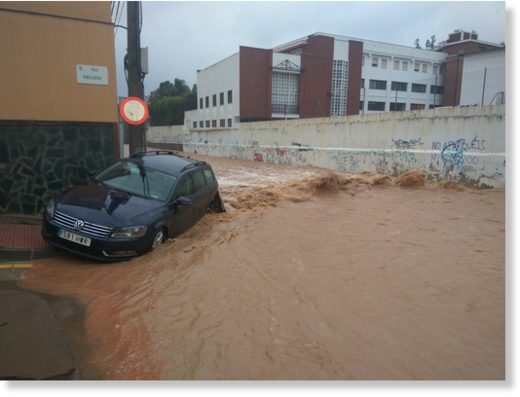 Storms in the Province of Malaga, southern Spain , resulted in widespread flash flooding on 19 February 2017 causing damage to damaged homes, roads and vehicles.
The city of Malaga was the worst affected area. Spain's meteorological office, AEMET, says that the the port of Malaga recorded 152.6 mm of rain in 24 hours on 19 February, with as much as 130.06 mm of that total falling in a 6 hour period.
Emergency services say they responded to 230 incidents during the heavy rainfall. However, there have been no reported fatalities or injuries.
Roads collapsed and buildings flooded. Torrents of water swept through the streets of the city, dragging vehicles along with it. There were also reports of landslides along the A-45 highway in Casabermeja, triggered by the heavy rain.

AEMET issued a red level (highest) warning for parts of the province of Malaga on 18 February, 2017.