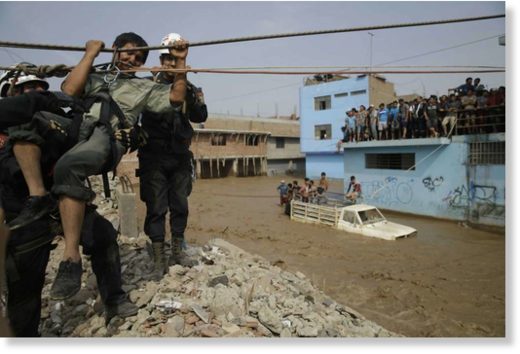 The number of people killed in Peru following
intense rains and mudslides wreaking havoc around the Andean nation climbed to 67 Friday, with thousands more displaced from destroyed homes and others waiting on rooftops for rescue
. Across the country overflowing rivers caused by El Nino rains damaged 115,000 homes, collapsed 117 bridges and paralyzed countless roadways.
"We are confronting a serious climatic problem," President Pedro Pablo Kuczynski said in a statement broadcast live Friday afternoon. "There
hasn't been an incident of this strength along the coast of Peru since 1998
."
The highly unusual rains follow a series of storms that have struck especially hard along Peru's northern coast, with voracious waters inundating hospitals and cemeteries, and leaving some small villages entirely isolated. On Thursday, the National Police rescued eight people who had been trapped for three days in Cachipampa and removed the body of an 88-year-old man killed in the floods. In the highlands along the department of La Libertad, dramatic video showed crashing water inundating several buses and trucks, killing at least five people. Rescuers were searching Friday for survivors.
Additional images