Earth Changes
KN News
YouTube
Wed, 14 Jul 2021 11:51 UTC
---
Richard Davies
Floodlist
Wed, 14 Jul 2021 10:54 UTC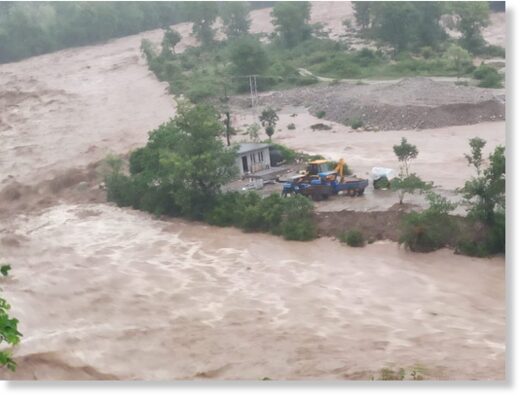 Days of heavy monsoon rainfall has triggered flooding and several landslides in northern India, affecting the states of Bihar, Himachal Pradesh and Uttarakhand.
Rescuers have recovered 6 bodies after landslides in Kangra District in Himachal Pradesh on 12 July 2021. More people are thought to be missing
and search and rescue operations are ongoing. Teams from India's National Disaster Response Force (NDRF) have been deployed to affected areas. Eighty people were rescued from a landslide in Triund, Kangra District.
Meanwhile flooding from the Manjhi River has caused severe damage in the popular tourist destination of Dharamshala City. India's National Emergency Response Centre (NERC) reported 28 homes destroyed and 12 damaged across the state.
Meanwhile in the neighbouring state of Uttarakhand, landslides blocked roads around Chamoli, while 3 members of a family were killed when their house collapsed during a landslide in Bageshwar on 11 July.
---
RT
Thu, 15 Jul 2021 15:15 UTC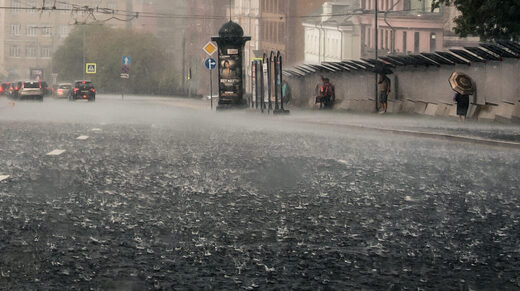 After weeks of sweltering in unusual warmth, on Thursday Moscow saw strong winds and a deluge of rain that has caused disruption across the city, with the weather delaying flights and damaging property in the Russian capital.
A number of flights were delayed leaving the city's main international airport, Sheremetyevo, while video emerged online showing lightning strike the concourse.
Pedestrians in the Arbat struggle through the groundwater as surging rains flood the city.
---

Comment: Western Europe's endless 'river of rain' in the summer of 2021 continues...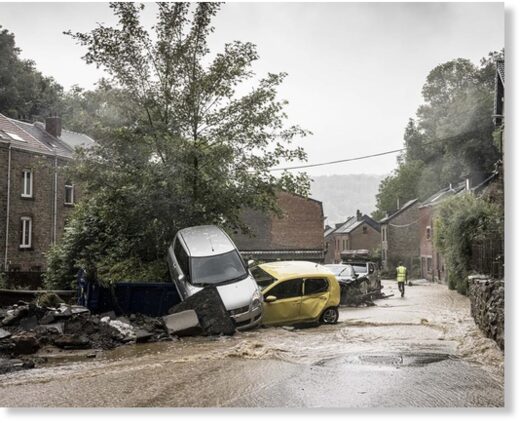 A sluggish storm system meandering over western and central Europe this week has
broken records
and brought flooding to the region -- and AccuWeather meteorologists warn
this storm isn't done bringing wet weather
.
Officials said Wednesday that firefighters continued to search for a man who was missing in the eastern German town of Jöhstadt after he was swept away by a raging stream on Tuesday night,
The Associated Press
reported. Jöhstadt is located near the Czech Republic border.
According to the AP, which cited a local German news source, the man disappeared after trying to secure his property from rising waters.
A disaster alert was issued in Hof County, also located near the Czech border, as the heavy rainfall flooded basements, uprooted trees and cut power across the area. Rainfall totals of 3.34 inches (85 mm) over 12 hours were reported.
This area also received around 3.50 inches (89 mm) on July 9
.
The flooding was not limited to eastern Germany with several areas in western Germany reporting flooding after
another round of rain and thunderstorms
on Tuesday.
Comment:
Update
: Yahoo! News
reports
on July 15:
Western Europe flooding kills at least 44





At least 42 people have died in Germany and dozens are missing as swollen rivers caused by record rainfall across western Europe swept through towns and villages, leaving cars up-ended, houses destroyed and people stranded on rooftops.

Eighteen people died and dozens were unaccounted for around the wine-growing region of Ahrweiler, in Rhineland-Palatinate state, police said, after the Ahr river that flows into the Rhine broke its banks and brought down half a dozen houses.

Another 15 people died in the Euskirchen region south of the city of Bonn, authorities said.



People in region were asked to leave their homes.

In Belgium, two men died due to the torrential rain and a 15-year-old girl was missing after being swept away by an overflowing river.

Hundreds of soldiers and 2500 relief workers were helping police with rescue efforts in Germany.

Tanks were deployed to clear roads of landslides and fallen trees and helicopters winched those stranded on rooftops to safety.

About 200,000 households lost power due to the floods.

In Ahrweiler, two wrecked cars were propped steeply against either side of the town's stone gate and locals used snow shovels and brooms to sweep mud from their homes and shops after the floodwaters receded.

"I was totally surprised. I had thought that water would come in here one day, but nothing like this," resident Michael Ahrend told Reuters.

"This isn't a war - it's simply nature hitting out. Finally, we should start paying attention to it."

The floods have caused Germany's worst mass loss of life in years.

Flooding in 2002 killed 21 people in eastern Germany and more than 100 across the wider central European region.

Chancellor Angela Merkel expressed her dismay.

"I am shocked by the catastrophe that so many people in the flood areas have to endure. My sympathy goes out to the families of the dead and missing."

In the US for a farewell visit before she steps down following a federal election in September, Merkel promised financial aid for those affected.

"You can trust that all branches of government, federal, state and local, will join forces to do everything they can to save lives, avert danger and alleviate hardship," she said.

In Belgium, about 10 houses collapsed in Pepinster after the river Vesdre flooded the eastern town and residents were relocated from more than 1000 homes.

The rain also caused severe disruption to public transport, with high-speed Thalys train services to Germany cancelled.

Traffic on the river Meuse is also suspended as the major Belgian waterway threatened to breach its banks.

Downstream in the Netherlands, flooding rivers damaged many houses in the southern province of Limburg, where several care homes were evacuated.

In addition to the fatalities in the Euskirchen region, another nine people, including two firefighters, died elsewhere in North Rhine-Westphalia.

In the town of Schuld, houses were reduced to piles of debris and broken beams.

Roads were blocked by wreckage and fallen trees.

"It was catastrophic," said 65-year-old pensioner Edgar Gillessen, whose family home had been damaged.

"All these people living here, I know them all. I feel so sorry for them, they've lost everything. A friend had a workshop over there, nothing standing, the bakery, the butcher, it's all gone. It's scary. Unimaginable."

Weather experts said that rain in the region over the past 24 hours had been unprecedented as a near-stationary low-pressure weather system also caused sustained local downpours to the west in France, Belgium and the Netherlands.
Update:
The Independent
reports
on July 16:
More than 90 people have died after severe flooding in western Germany and Belgium, as rescuers continue to search for survivors.

At least 81 of the fatalities occurred in Germany, while there have been 12 deaths in Belgium, according to local media reports.

A total of 1,300 residents remain missing in the Ahrweiler district in the state of Rhineland-Palatinate, the district government said.

In the village of Schuld and elsewhere, houses were swept away after rivers burst their banks following days of extreme rainfall.


Speaking from Washington on Thursday, Angela Merkel expressed her sorrow at the events unfolding in her home country, calling it a day "characterised by fear, by despair, by suffering".

Her potential successor as chancellor, Armin Laschet, the premier of the badly-affected state of North Rhine-Westphalia, blamed the climate crisis for the catastrophe.

"We will be faced with such events over and over, and that means we need to speed up climate protection measures... because climate change isn't confined to one state," he said.

Deaths have been reported in Belgium too, with the mayor of Liège ordering residents to evacuate their homes on Thursday. The Netherlands and Luxembourg have also been affected by severe flooding.
---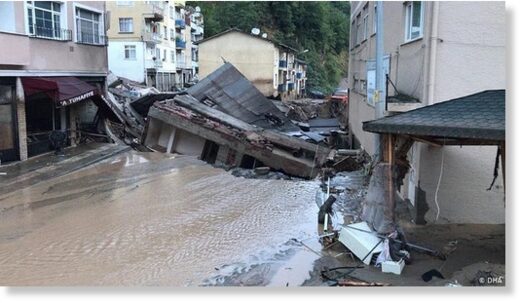 At least six people were killed and one went missing after flooding and landslides triggered by heavy rains hit Turkey's Black Sea region.
Following the heavy downpour that hit the northeastern province of Rize on July 14, landslides wreaked havoc in some areas, tearing apart chunks of soil from hills and piling up debris on streets inundated with floodwaters.
The Güneysu and Çayeli districts, located on steep hills in a challenging terrain where mountains run parallel to the sea, were the epicenters.
Rize Governor's Office said in a statement that floods and landslides were reported in many locations across the province,
adding that most rainfall was recorded in Güneysu, where 207 kilograms of precipitation hit each square meter.
---
JAMES CRUMP
Newsweek
Thu, 15 Jul 2021 13:22 UTC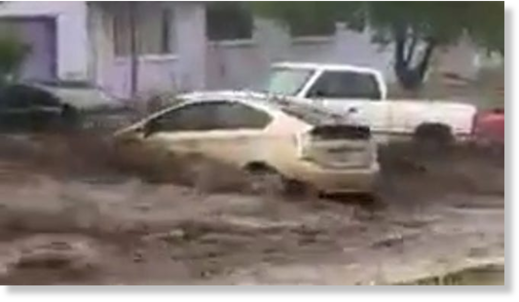 Footage posted on social media showed cars being washed away during flash flooding in Arizona, as areas of the state were hit with heavy rain for the second day in a row.
One video, shared on Twitter by local meteorologist Ian Schwartz, showed a silver Toyota Prius getting carried down a residential street in Flagstaff, Arizona, by intense floodwaters on Wednesday morning.
The footage was shared with Schwartz by Flagstaff resident Taylor Landy, who told the
Arizona Republic
that she shot the clip from inside her garage, which was spared from the floodwaters during the heavy rain.
---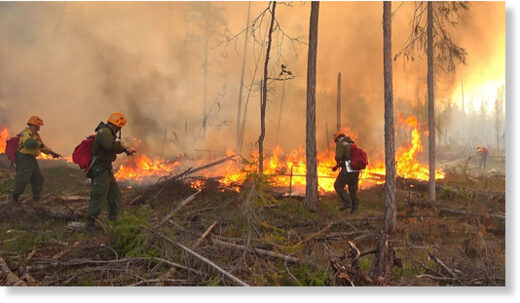 Wildfires ravaging northeastern Siberia have spread by nearly 70,000 hectares in the past day, marking a 17.5% increase in a single day, the
Kommersant
business daily reported Friday, citing the regional emergencies ministry.
Some 400,000 hectares of forest are now burning in Russia's republic of Sakha.
Abnormally high temperatures and historic drought as well as strong winds have all contributed to the rapid wildfire spread, Sakha's deputy ecology minister and chief forester Sergei Sivtsev told
Kommersant.
"For the central regions of the republic, June 2021 became the second driest in the entire history of observations; the last time such a drought was observed was at the end of the 19th century, in 1888," Sivtsev told Kommersant.
---
JOHN ANTCZAK and CHRISTOPHER WEBER
abcnews.go.com
Tue, 13 Jul 2021 12:52 UTC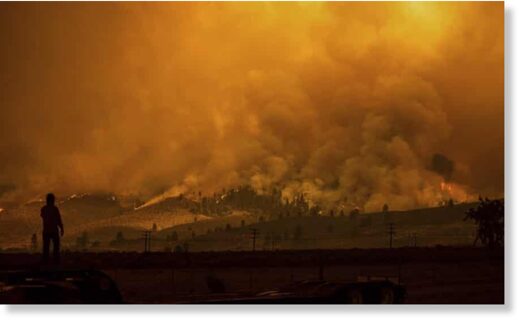 Wildfires that torched homes and forced thousands to evacuate burned across 10 parched Western states on Tuesday, and the largest, in Oregon, threatened a portion of California's power supply.
Nearly 60 wildfires tore through bone-dry timber and brush from Alaska to Wyoming
, according to the National Interagency Fire Center. Arizona, Idaho and Montana accounted for more than half of the large active fires.
The fires erupted as the West was in the grip of the second bout of dangerously high temperatures in just a few weeks. A climate change-fueled megadrought also is contributing to conditions that make fires even more dangerous, scientists say.
The National Weather Service said the heat wave had peaked in many areas, and remaining excessive heat warnings were expected to expire by Tuesday night.
---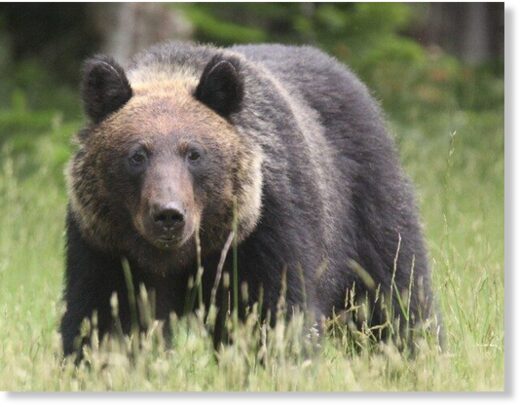 The number of deaths and injuries caused by brown bear attacks in Japan's northernmost prefecture of Hokkaido this year has reached nine, including suspected cases yet to be confirmed
, putting the prefecture on track to mark the highest number of incidents since 1962, when records began to be kept.
Experts are warning that brown bears are living in areas closer to people as buffer zones that used to separate their habitats and residential areas have disappeared.
"I feel bears are appearing this year more often than usual, with a spate of reports of sightings at the same locations near urban areas," said a government employee in the town of Takinoue, where the body of a suspected brown bear attack victim whose gender has not been confirmed yet was found on a mountain.
An employee of the district forest office traveling by car found the collapsed victim bleeding heavily from head wounds around 2 p.m. on July 12 in a lump of grass along a forest road in the town, and informed Monbetsu Police Station.
---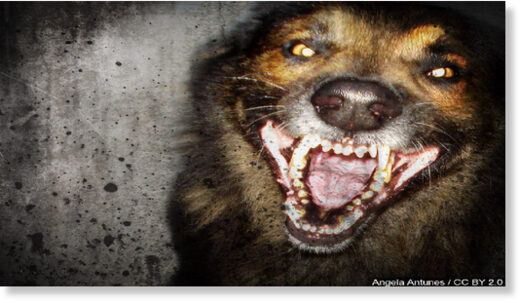 The mother of a 13-year-old girl who was killed by a pack of dogs on the Navajo Nation has said she "never thought that would happen".
Lyssa Rose Upshaw was walking in Fort Fefiance, a county within the Navajo Nation and Arizona, when dogs are thought to have attacked her in mid-May.
The girl's mother, Marissa Jones, found her daughter's body curled up on a dirt track and covered in dirt. She told the Associated Press that she suspected dogs, although she was waiting for confirmation from officials.
An autopsy requested by the AP confirmed that the teenager had died from a dog attack, and that it was accidental. The autopsy was carried out by the medical examiner's office in Coconino County, Arizona.
The report follows Navajo Nation President Jonathan Nez recently vetoing a bill that would hold dog and animal owners accountable for attacks. It is not currently tribal law.
---