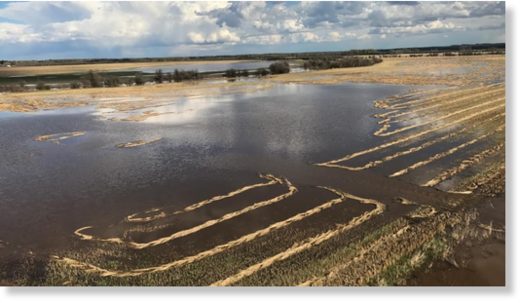 Alberta farmers are off to a slow start after a wet, soggy spring.
Allam Farms Partnership farms 14,000 acres in Thorhild County and Strathcona County but chief operations officer Chris Allam said the business is behind where it normally is at this time of year.
"We're usually done seeding by now. Right now, we're approximately 30 to 40 per cent complete.
Our problem is we're up against the clock," he said.
Allam said his machinery has been stuck in his fields close to 30 times because the fields are so wet.
"If we seed a bit late, it's going to be hard to get it off in the back-end. We'll see issues with quality and yield reductions," he said."We're working really long hours and trying to get it all in and get it done in a timely fashion. But Mother Nature didn't cooperate earlier on - it is [okay] for the next few days - but we'll see if the forecast changes."
Allam said that roughly 10 per cent of his fields will not get seeded because of the water.