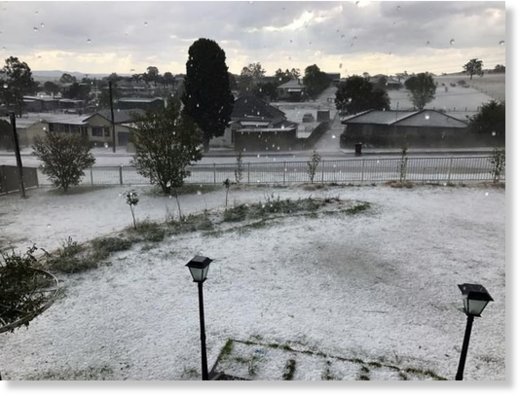 A Queensland town has been turned into a white wonderland after a severe thunderstorm brought through some heavy hail.
Killarney, southeast of Warwick, looked as if it had been hit by a snowstorm following the battering on Sunday afternoon.
Hail at Killarney. Video: Lisa Locke. #qldweather #7News pic.twitter.com/SNYpo2Pj4e
— 7 News Queensland (@7NewsQueensland) November 27, 2016
Large hailstones, fierce winds and heavy rain has hit parts of the southeast, as two thunderstorms sweep through the area.
One storm was detected on the radar about 3.30pm near Peak Crossing, southwest of Brisbane. It was heading in a northwest direction and was expected to hit Bundamba Lagoon and the area south of Amberley by 4.05pm and Amberley, Rosewood and south of Cunninghams Gap by 4.35pm
Severe storm continues to move north along ranges and towards #Boonah. Storm approaching #Ipswich has completely weakened. pic.twitter.com/d54ehGk0lH
— BOM Queensland (@BOM_Qld) November 27, 2016