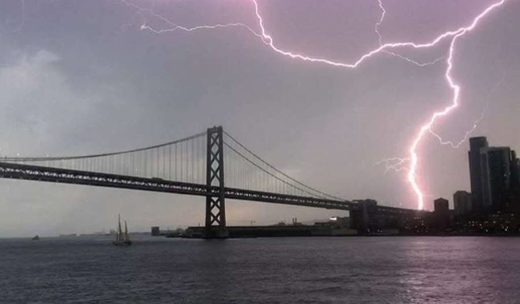 Updated on September 12 at 7:20 a.m.: The National Weather Service reported Tuesday morning that 1,200 cloud-to-ground strikes and 5,800 in-cloud strikes hit the Bay Area Monday night.
"You can see both," says Scott Rowe, a meteorologist with the National Weather Service office in Monterey. "Both are just as dangerous."
It started with
strong wind gusts between 35 and 50 mph
that roared through Monterey County and parts of the South Bay in the early morning hours. Later in the day, temperatures climbed to the 90s in San Jose and the high 80s in San Francisco.
Then came the rain, thunder, and lightning. The National Weather Service tweeted out that the Bay Area saw more than 800 lightning strikes and cloud flashes between noon and 5 p.m.