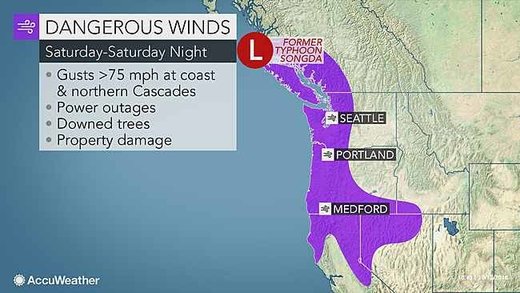 At least three potent storms will blast the northwestern United States from the latter part of this week to the early part of next week.
The storms could be an early sign of a
La Niña-like pattern
for the
winter ahead
. La Niña is a pattern noted by a zone of cooler-than-average water temperatures in the tropical Pacific Ocean. Depending on the strength and extent of this cool puddle, weather patterns across much of the globe can be affected.
"The series of storms will bring heavy rain, high country snow and high winds to portions of Washington, Oregon, Idaho, northern California and western Montana, as well as neighboring British Columbia into next week,"
according to AccuWeather Senior Meteorologist Brett Anderson.
The storms will bring winds strong enough to down trees, trigger power outages and perhaps cause minor property damage.
The first storm on Thursday into Friday will bring gusts between 40 and 80 mph on the coasts from northernmost California to Oregon and Washington on Thursday.
Stronger storms with the potential for more powerful winds will follow into next week.
From Saturday to Sunday, the second storm may contain moisture and some of the remnant circulation from Typhoon Songda, currently in the western Pacific.
While the system this weekend may be non-tropical in nature by the time it reaches the Northwest, it could hit with the force and some impact of a hurricane. Gusts in some coastal areas of Oregon and Washington could range between 75 and 100 mph.