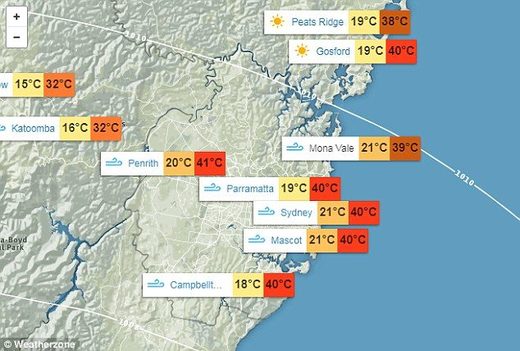 Sydney has sweltered through its hottest autumn day in 78 years, with temperatures soaring past 40C on Sunday.
The mercury hit 40.5C at Sydney Airport in the city's inner-south, a staggering 16C higher than the average March temperature of 24C.
Even the eastern beaches saw temperatures as high as 39C as north-westerly winds counteracted any sea breeze.
Weatherzone meteorologist Graeme Brittain told
Daily Mail Australia
the scorching temperatures were 'highly unusual'
.
Mr Brittain said wind gusts in excess of 90km tore through the New South Wales coastline, but brought little reprieve from the heat.
He warned temperatures would likely remain high overnight.
Sunbathers flocked to Sydney's beaches on Sunday amid the sweltering autumn heatwave.
Bondi beach was packed with revellers in search of some relief from the scorching hot temperatures.