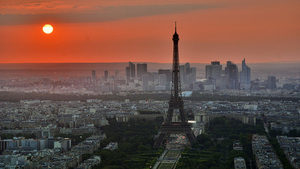 Almost all of France (apart from the south east) is now roasting under temperatures up to 38C as heatwave alerts are extended to 66 departments.
Most of France is sizzling under scorching temperatures with 66 departments now on heatwave alert, including the entire greater Paris region of Ile-de-France, national weather agency Meteo France said.
The weather agency extended the orange alert from 16 departments to 66 on Tuesday, meaning the sweltering temperatures are now affecting vast swathes of France.
The mercury is predicted to rise to nearly 40C in the west of the country with temperatures in the southwestern seaside town of Biarritz expected to reach a whopping 38C.