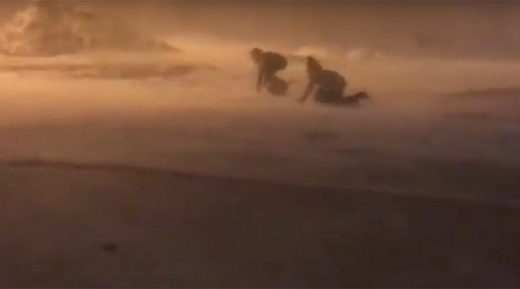 A powerful cyclone has triggered days of severe snowstorms in the world's northernmost city of Norilsk, leaving inhabitants battling to maintain a regular lifestyle in the face of extreme cold, biting winds, and low visibility.
Storm warnings have been announced every few days throughout the past month, with the latest declared on Sunday night, as a warm cyclone hit the city. Temperatures have risen from about -25C to -15C, but a third of the expected monthly snowfall fell on Sunday night alone, and precipitation has not subsided since. Average snow cover has reached seven inches.
Winds have regularly exceeded 25 km/h, and have on occasions reached 40 km/h, which is defined by Russian meteorologists as a "black blizzard" - a severe weather event. Visibility has fallen below 1 km, but videos posted by locals show that it is hard to make out the houses on the sides of the road even during daytime - which only lasts five hours - without streetlights.