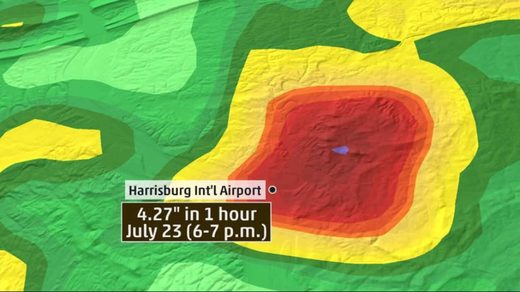 July is wrapping up with several unusual weather events.
Among them are several rainfall extremes, strange tropical cyclone interactions and out-of-season conditions.
Here's a look at what we've seen so far and what's to come.
1. A Rain Event That Had a 0.1-Percent Chance of Happening
Abundant tropical moisture fueled a rare rain event in Harrisburg, Pennsylvania, on the evening of July 23.
Harrisburg International Airport received 4.27 inches of rain in a single hour, from 5:56 to 6:56 p.m. EDT. A rainfall event of this magnitude in Harrisburg has just a
0.1-percent chance of happening in a given year
, according to data from NOAA.
The total rain for the day at Harrisburg International Airport tallied up at 4.71 inches. This now stands as the wettest July day on record, and the fifth-wettest day overall for any month of the year at that location.
This downpour was extremely localized. Harrisburg's Capital City Airport, just a few miles to the northwest, saw less than a half-inch of rain during the same evening.