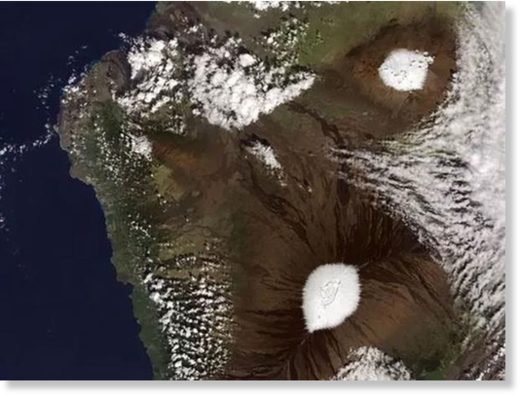 Do you want to build a snowman in paradise?
Hawaii's mountainous peaks picked up 8 inches of snow overnight this week after a blizzard hit the summit of Mauna Kea on the Big Island of Hawaii.
Most of the snow fell late Tuesday into early Wednesday, and a blizzard warning for Mauna Kea and its sister peak Mauna Loa was canceled Thursday. A few additional snow showers were forecast, with no accumulation expected.
While the summits received snow, the rest of the Big Island dealt with heavy rain and thunderstorms that pelted the lower elevations. Both Oahu and Kauai were under flash flood warnings
. Temperatures were mild, with highs in the 70s and 80s.
Snow on Hawaii's peaks is not uncommon in the colder months because they are nearly 14,000 feet high. Mauna Kea has a sub-Arctic climate, the weather service said.