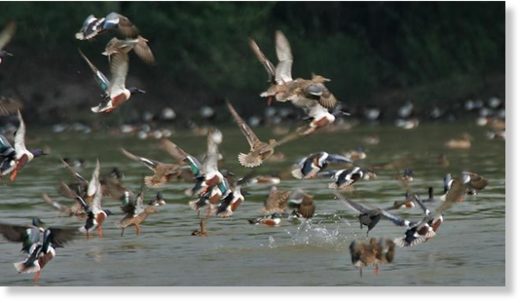 Sultanpur National Park in Gurugram has lately been
receiving an unprecedented number of winged visitors from all over the world.
Owing to heavy snowfall in Siberia, eastern Europe, Mongolia, and northern China, migratory birds have been flocking at the sanctuary in large numbers. Gurugram's wildlife department has recorded a 60 per cent increase in number of these long-distance fliers, including rare varieties which have been spotted for the first time.
This year the national park has broken all records in terms of the number of domestic and migratory birds. The previous highest recorded figure was of 60,000, while this year the count has more than doubled with at least 1.25 lakh birds visiting, including the 40,000 that have flown in from abroad.
In an interview to
Mail Today,
Shyam Sundar Kaushik, divisional forest officer (DFO) of wildlife Gurugram range said that migratory birds have been flocking at the park since the onset of the winter season and arrivals will continue if the chill in the air remains the same for the next few days.
He was quoted as saying, "We had registered 25,000 migratory pelicans of 40 varieties last season and the figure in this category has reached 40,000 already with at least 35 more varieties of birds this season
. This is an encouraging sign for us and it is also an indication of good air quality in the region."