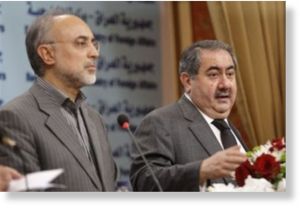 Iraq says the remaining US troops should leave Iraq by the end of 2011 while Washington has embarked on a campaign to extend its military presence in the country.
Iraqi Foreign Minister Hoshyar Zebari said on Wednesday that the United States will withdraw its forces from the Iraqi soil by the previously agreed end-of-2011 deadline, IRNA reported.
On August 31, 2010, the White House declared an end to its combat missions in Iraq but left some 50,000 troops in the country for what it described as advising and training purposes.
There is no secret pact with Washington in this regard, Zebari stressed but noted that Iraq's strategic cooperation with the United States is a long term relation and one should not expect the US embassy and consulates to be removed.
The Iraqi foreign minister made the remarks at a joint conference in Baghdad with his Iranian counterpart Ali Akbar Salehi, where the two sides said that Tehran and Baghdad share the same concerns regarding the Middle East developments and the political unrest in the region.
Iraqi Prime Minister Nouri al-Maliki has also said that the United States needs to reach a new deal in order to keep its troops in Iraq beyond the year 2011. This new agreement, Maliki said, would need to be backed by all main Iraqi political factions.
He said the agreement ends of December 31 can "neither be extended nor renewed."
"We all live in the same region and what is happening in this region will affect all," Zebari said in reference to the repression of popular protests in the Middle East's Arab states.
"We believe that the demands of the people in the region should be considered and that their voices should be heard," he added.
Salehi, for his turn, hailed the growing Tehran-Baghdad ties and described the economic agreements between the two neighbors as a positive move.
The Iranian minister criticized the Saudi-led military invasion of Bahrain as a "strategic error," warning that continued repression of popular protests "could fuel extremism in the region and threaten security and stability" there.
The Iranian official also condemned the West's dual stance, given its silence on the killing of peaceful demonstrators in Yemen and Bahrain and the UN-backed, NATO-led war against regime forces in Libya.
In Mid-March, a number of Bahrain's Arab neighbors deployed military forces to the Persian Gulf kingdom upon a request from Manama to help the embattled Al Khalifa regime quell anti-government protests.
According to Bahrain Center for Human Rights, the Saudi-backed Bahraini forces have detained more than 1,000 people, including anti-regime protesters, rights activists, former lawmakers, senior clerics as well as doctors and nurses over the past three months.