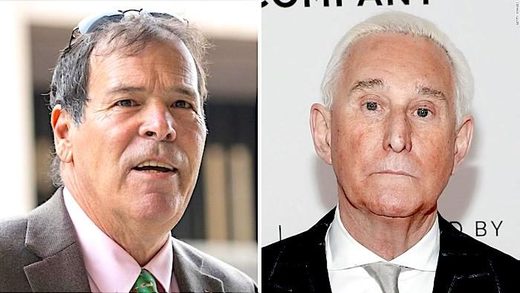 New text messages show that Roger Stone learned about WikiLeaks' plans to release Clinton-related emails through Randy Credico.
The messages, which Stone's lawyers extracted from an old phone on Wednesday, back up Stone's claims about how he learned of WikiLeaks' plans. The messages severely undercut Credico's denials that he was a source for Stone.
Robert Mueller has been investigating whether Stone had advance knowledge of WikiLeaks' plans to release emails stolen from John Podesta.
Text messages released on Wednesday appear to support Trump confidant Roger Stone's testimony that a New York radio show host was his source for information about WikiLeaks' plans to release information damaging to Hillary Clinton's campaign.
"Julian Assange has kryptonite on Hillary," Randy Credico wrote to Stone on Aug. 27, 2016, according to text messages that Stone provided to The Daily Caller News Foundation.
"You are not going to drag my name into this are you," Credico wrote on Sept. 29, 2016, suggesting that he was worried that Stone would identify him as his source for public claims he was making about WikiLeaks' plans.
"[B]ig news Wednesday," Credico wrote on Oct. 1, 2016, days before WikiLeaks began releasing emails stolen from Clinton campaign chairman John Podesta. "Now pretend u don't know me."
Credico also suggested in the texts that his source for some information about WikiLeaks was one of the group's lawyers, who he said was one of his "best friends." Stone has long claimed that the lawyer, Margaret Ratner Kunstler, was a source for Credico.
NBC News
first reported
details of the text exchanges.