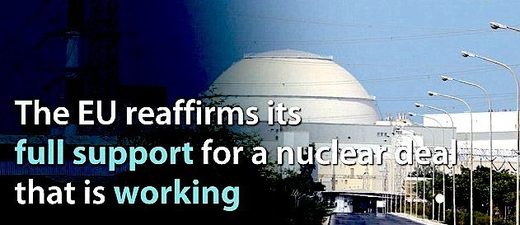 European Union leaders have reaffirmed their commitment to a landmark deal to limit Iran's nuclear activities in exchange for sanctions relief, despite opposition from U.S. President Donald Trump.
The 28-member bloc gave a nod to concerns Trump has raised, however, by stepping up criticism of Tehran's ballistic-missile program and its role in what the West sees as fomenting instability in the Middle East.
"We fully stay committed to the complete implementation by all sides of the Iranian nuclear deal. We see this as a key security interest for the European Union and the region,"
the EU's top diplomat, Federica Mogherini, said late on October 19 in Brussels.
The EU leaders issued a joint statement saying, as reported by RFE/RL earlier in the day based on a draft statement, that the EU "reaffirms its full commitment to the Iran nuclear deal."
Since Trump declared his opposition to the 2015 deal and refused to certify Iran's compliance last week, the bloc has been stepping up efforts to save it, and on October 19 appealed to the U.S. Congress not to let it fall apart.
In an address on October 13, Trump asked the U.S. Congress to strengthen a U.S. law related to the deal in order to put additional pressure on Tehran by setting up triggers for the imposition of sanctions.
Trump also said he would seek the removal of so-called sunset clauses,
which set expiration dates for some restrictions on Iran's nuclear program under the deal between six global powers and Tehran. He threatened to withdraw the United States from the deal if his goals are not met, calling on Congress and U.S. allies to help achieve them, and has repeated that threat in subsequent remarks.