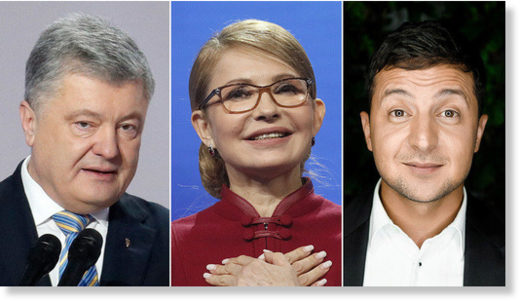 For some time, it was assumed that Yulia Tymoshenko would challenge Petro Poroshenko for the Ukrainian presidency in next month's election. However, out of nowhere, Vladimir Zelensky has now emerged as the frontrunner.
For Ukrainians able to vote in next month's presidential election, the choice is now pretty clear. There are three options: the incumbent oligarch anti-Russia hardliner, the femme fatale of Kiev's political scene, or a comedian best known for playing a fictional president in a popular TV drama.
While his candidacy originally inspired much bemusement, nobody's laughing now at Zelensky. Because the entertainer has surged into a nine-point polling lead with just six weeks left before the big day.
Right now, here's the state of play: Zelensky 26.9 percent, Poroshenko 17.7 percent, and Yulia Tymoshenko 15.8 percent.
Asked why they favor the newcomer, 54 percent of his backers cite his status as a fresh face, who's up against a number of figures who've been on the political scene for donkey's years.