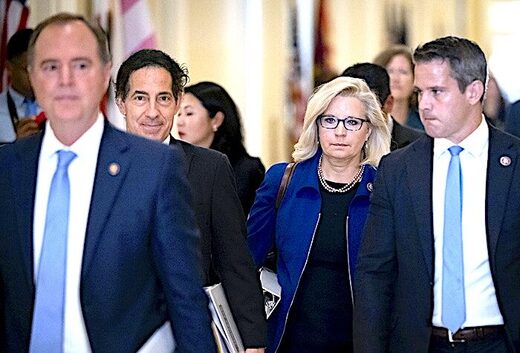 The Biden DOJ has not charged one 1/6 defendant with insurrection, sedition or plotting to kidnap or kill.
Democrats need Adam Schiff and Liz Cheney to satiate liberal anger.
What follows is the last section of my article earlier this week, documenting why Congress's Select Committee to Investigate 1/6 is both unconstitutional and an assault on civil liberties.
Underlying so much of the anger
and resentment surrounding 1/6 is the
complete dissonance between the narrative fed to the citizenry by Democrats and their media allies on the one hand, and the legal realities on the other.
It must be infuriating and baffling to a large sector of the population to have been convinced that what happened on January 6 was an unprecedentedly dangerous insurrection perpetrated by an organized group of seditious traitors who had plotted to kidnap and murder elected officials,
only for the Biden DOJ to have charged exactly nobody
with any criminal charges remotely suggesting any of those melodramatic claims.
This was the same frustration and confusion
that beset a large portion of liberal America when they were led to believe for years
that Robert Mueller was coming to arrest all of their political enemies for treason and criminal conspiracy with Russia,
only for the FBI Superman to close his investigation without
charging a single American with criminal conspiracy with Russia
and then issuing a report admitting that he could not find evidence to establish any such crime. How to keep the flock loyal when the doomsday prophecies continue to be unfulfilled, as the World-Ending Date comes and goes without so much as a bang, let alone an explosion?