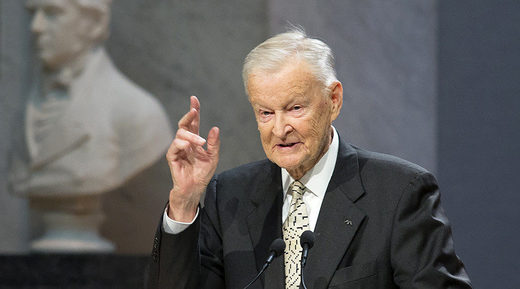 Zbigniew Brzezinski, national security advisor to former President Jimmy Carter, has died, according to an announcement from his daughter, MSNBC anchor Mika Brzezinski.
There was no word of the cause of death.
"He was known to his friends as Zbig, to his grandchildren as Chief and to his wife as the enduring love of her life," Mika wrote on Instagram.
Brzezinski served as President Carter's national security advisor from 1977 to 1981 and continued to hold influence in foreign policy issues. A registered Democrat once considered to be the answer to Republicans' favored Henry Kissinger, Brzezinski also served on former President Ronald Reagan's Chemical Warfare Commission and held other roles in the administration until 1989.
He was born in Warsaw, Poland, in 1928. He became a naturalized US citizen in 1958.
Brzezinski was involved in the normalization of US-China relations, the signing of the second Strategic Arms Limitation Treaty (SALT II), and the brokering of the Camp David Accords.
Brzezinski was an advocate of arming Mujahideen fighters against the Afghan government, convincing Carter that it was going to "induce a Soviet military intervention" in Afghanistan.
"We didn't push the Russians to intervene, but we knowingly increased the probability that they would," he
said
in a 1998 interview with
Le Nouvel Observateur
. "The day that the Soviets officially crossed the border, I wrote to President Carter, essentially:
'We now have the opportunity of giving to the USSR its Vietnam war.'"