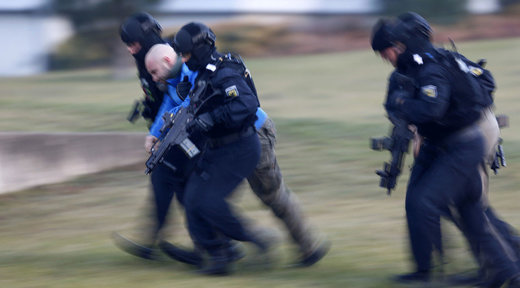 Around 400 German police conducted raids at a mosque and eight apartments in a "hotbed" of radical Islam near Hannover. It came as police near Stuttgart arrested a 15-year-old who they believe was planning a mass shooting.
The raids took place in Hildesheim, a town which Lower Saxony Interior Minister Boris Pistorius described as "a hotbed of radical Salafist" activity. He said that up to 400 police and special forces took part in the operations, though no figures were released regarding how many arrests were made.
"The German-speaking Islamic circle (DIK) in Hildesheim is a nationwide hot-spot of the radical Salafist scene that Lower Saxony security authorities have been monitoring for a long time," the state official said, as quoted by Reuters.
He said he wants to ban the DIK, which he blames for radicalizing German Muslims and influencing some to want to travel to the Middle East to join up with terrorist organizations such as Islamic State (IS, formerly ISIS/ISIL).