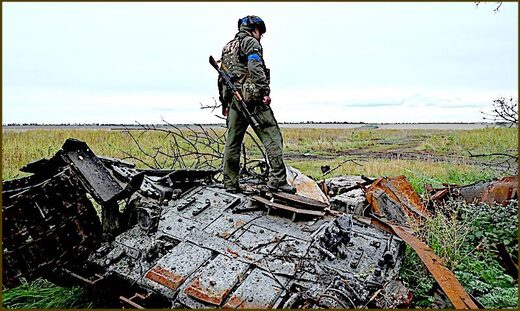 At the end of 1942, when the Wehrmacht could advance no further east, Hitler switched German ground forces from an "enemy force-oriented" strategy to a
"ground-holding" strategy
. Hitler demanded that his
armies defend vast
, largely empty and irrelevant stretches of Soviet territory.
"Holding ground" not only robbed the German military of its ability to exercise operational discretion, and, above all, to outmaneuver the slow, methodical Soviet opponent;
holding ground also pushed German logistics to the breaking point.
When holding ground was combined with
endless counterattacks
to retake useless territory,
the Wehrmacht was
sentenced to slow, grinding destruction
.
Ukrainian President Volodymyr Zelensky, (presumably with the advice of his U.S. and British military advisors), has also adopted a strategy of holding ground in Eastern Ukraine.
Ukrainian forces immobilized themselves inside urban areas, and prepared defenses. As a result, Ukrainian forces
turned urban centers
into fortifications for what became "last stands."
Sensible withdrawals from cities like
Mariupol
that might have saved many of Ukraine's best troops
were forbidden.
Russian forces responded by methodically isolating and crushing the defenders left with no possibility of either escape or rescue by other Ukrainian forces.
Moscow's determination to destroy Ukrainian forces at the least cost to Russian lives prevailed.
Ukrainian casualties were always heavier than reported
from the moment Russian troops crossed into Eastern Ukraine, but now, thanks to the recent failure of Ukrainian counterattacks in the Kherson region,
they've reached horrific levels that are impossible to conceal.
Casualty rates have reached
20,000 killed or wounded a month
.