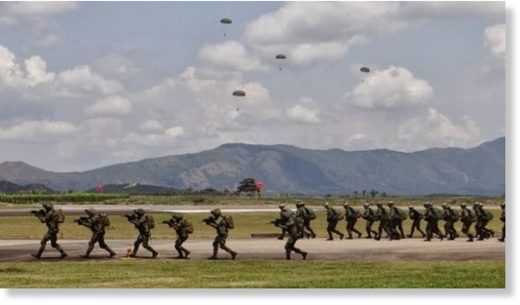 Translation by Tortilla con Sal.
As Southern Command chief Admiral Kurt Tidd put it, "The growing humanitarian crisis in Venezuela could make necessary a regional response."
The military option against Venezuela mentioned recently by President Donald Trump has been active since even before he made his remarks. In an unconventional warfare scenario, conventional military action as such is not to be expected. The Petri dish nutrient is "humanitarian crisis" cultured by agents of anti-Chavismo both nationally and internationally.
Unusual and extraordinary military exercises
The number of U.S.-led military exercises is growing all the time covering various aspects of warfare, but it is noteworthy that
the "humanitarian" component is always present
, even when the substantive contribution of U.S. armed forces in dealing with natural disasters with tragic consequences is unknown. What happened in Houston, Texas, is just one example.
A
combined exercise
was held last June in Barbados "to improve the collective ability of defense forces and police to counteract international organized crime and carry out humanitarian relief/disaster operations." Based in Barbados' capital Bridgetown, this international exercise in maritime security and disaster response, titled, "Caribbean Tradewinds 2017," involved 20 countries, including Mexico.