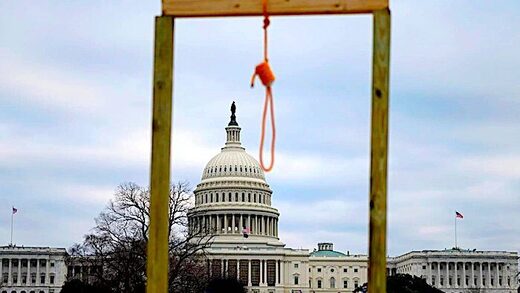 What we had here was a failure to communicate.
Again, on January 6 — years after numerous investigations and study commissions picked apart the intelligence failures leading up to the September 11, 2001 terror attacks.
Last week, America's security agencies were again caught flat footed when another kind of militant wave, this time
pro-Trump fanatics,
stormed and trashed the citadel of American democracy,
nearly executing what al-Qaeda had failed to do,
destroy the U.S. Capitol.

Comment: There is plenty of evidence Trump supporters were purposefully infiltrated to trigger optics, cause havoc, fear monger and wreak damage. Destruction and loss of life at the Capitol cannot be compared to 9/11.


Democrats in Congress are teeing up another round of investigations and commissions to get to the bottom of the January 6 insurrection, which will almost certainly
revisit the thorny question of whether the U.S. needs an independent counter-subversion agency to infiltrate and neutralize armed domestic extremists,
who are now threatening more attacks on or around the inauguration of Joe Biden and Kamala Harris.
Already,
a bill
has been introduced to empower federal law enforcement to better monitor and stop domestic extremist violence.
Its sponsor, Rep. Brad Schneider (D-IL), said:
"It is not enough to just condemn hate, we need to equip law enforcement with the tools needed to identify threats and prevent violent acts of domestic terrorism. The Domestic Terrorism Prevention Act improves coordination between our federal agencies and makes sure they are focused on the most serious domestic threats."