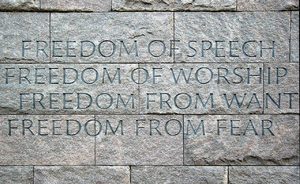 Over the last couple of years I've written volumes on fascists making inroads into American politics and civil life. With civil and human rights it starts with understanding a little about what's known as the Four Freedoms. And there are many legitimate civil rights groups today that go under that banner.
In 1941, President Franklin Delano Roosevelt gave what became known as the Four Freedoms speech. He proposed that there were four freedoms that people everywhere in the world should enjoy. Freedom of Speech, Freedom of Worship, Freedom from Want, and Freedom from Fear. The speech was mainly concerned with national security and democracies that were heading into a world war. The first two freedoms are enshrined in the Bill of Rights. The last two were and are revolutionary.
Unfortunately ever since the Four Freedoms were first spoken it have been used politically to gear America up for war. They became a cornerstone of American Exceptionalism and intervention.