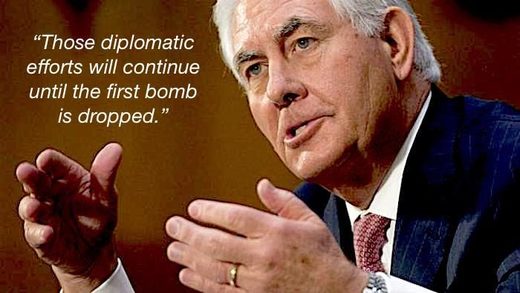 It doesn't inspire confidence when US Secretary of State Rex Tillerson attempted to give assurances that the American government is not seeking war with North Korea.
After weeks of numerous menacing messages from President Donald Trump warning the "total destruction" of North Korea, the White House's top diplomat was obliged to go public and calm growing concerns about a war breaking out. Tillerson told American news outlet CNN:
"President Trump wants to avoid violence... He is not seeking to go to war."
He said Trump was committed to diplomacy
,
contrary to recent comments made by the president saying that Tillerson was "wasting his time" in pursuing diplomatic efforts with North Korean leader Kim Jong-un. Following that earlier snub to his top diplomat, Trump then added that "only one thing will work!"
Rex Tillerson's assurances of no war plans are not very convincing. With a curious choice of words, he said at one point in his interview with CNN: "Those diplomatic efforts will continue until the first bomb drops."
Those cryptic words "... until the first bomb drops," strongly suggest that there are indeed concrete plans for military action by the US against North Korea; and that the diplomacy - the little of it there is up to now - is but a prelude for eventual war.