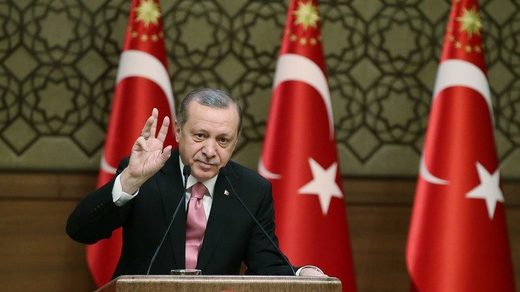 There are two new developments on the Syrian front. The Islamic State suddenly changed its tactic and the Turkish President Erdogan again changed his policy course.
In the last 24 hours news announcements about victories against the Islamic state (ISIS) rapidly followed each other:
The Kurdish U.S. proxy forces in east Syria (SDF) announced that it had reached the northern bank of the Euphrates between Raqqa and Deir Ezzor. This cuts the ISIS communication line between the two cities.
Turkish forces and their "Syrian rebel" mercenaries have been attacking Al-Bab east of Aleppo for nearly four months. They made little progress and incurred huge losses. Late yesterday they suddenly broke into the city and today took control of it. Various sources claim that a deal was made between the Turkish forces and ISIS for the later to evacuate Al-Bab unharmed and with its personal weapons. It is not yet known what price Turkey paid in that deal.
South of Al-Bab the Syrian Army is moving further east towards the Euphrates and took several villages from ISIS. The Syrian move is largely designed to cut the roads between the Turkish forces around Al-Bab and the Islamic State forces in Raqqa.
Further south another Syrian Army group is moving east towards Palmyra.
In the eastern city of Deir Ezzor the Syrian army garrison is under siege by Islamic State forces. A few weeks ago the situation there looked very dire. But with reinforcements coming in by helicopter and massive Russian air force interdiction the position held out quite well. In recent days the defenders took several hills from a retreating ISIS.
In Iraq the army, police and the various government militia are pushing towards south Mosul. Today the airport south of the city fell into their hands with little fighting. Like everywhere else ISIS had stopped its resistance and pulled back. Only a few rearguards offered tepid resistance.
While ISIS was under pressure everywhere the sudden retreat on all fronts during the last 24 hours is astonishing and suggest some synchronicity.
A central order must have been given to pull back to the buildup areas of Raqqa in Syria and south Mosul in Iraq.