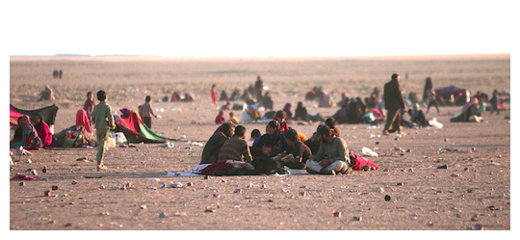 Islamic State militants have taken some 550 families from villages around Mosul, and are thought to be holding them as 'human shields' close to jihadists' locations
in the strategic Iraqi city, a spokeswoman for the UN human rights office said. Citing "corroborated information," UN spokeswoman Ravina Shamdasani said the office is also investigating reports that Islamic State (IS, formerly ISIS/ISIL)
militants had killed 40 civilians in one village
, Reuters reported.
Earlier this week, the International Organization for Migration (IOM) sounded the alarm amid the carnage surrounding the recapture of Mosul and
concerns that IS militants may unleash chemical attacks and use tens of thousands as human shields.
"Tens of thousands of people may be forcibly expelled, they will be getting trapped between fighting lines under siege, they may even be held as human shields," IOM's chief of mission for Iraq, Thomas Weiss, told Reuters.
The battle for Mosul, which was held by Islamic State since 2014, began on Sunday, and has since intensified.
The Iraqi military and US-led coalition said that the operation to retake Mosul may
last weeks or even months.
French Foreign Minister Jean-Marc Ayrault said on Thursday that the battle for Mosul is decisive both militarily and ideologically because
it's about "stabbing Islamic State in its very heart."
The
UN says
Mosul could require the "largest and most complex" humanitarian relief operation in the world, with up to 1 million people forced from their homes as a result of the operation against Islamic State militants.