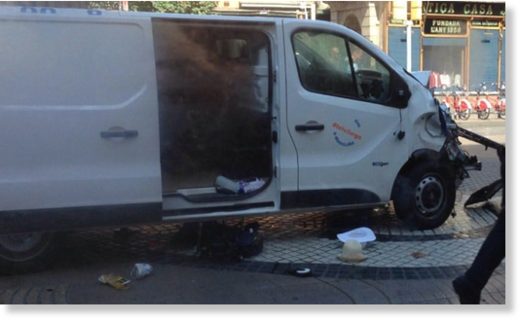 Up to 13 people are feared dead and dozens have been injured after a van crashed into a crowd of people in central Barcelona, as police confirmed that one suspected attacker has been arrested.
Catalonia's TV3 reported that 13 people had died and dozens were injured, but these numbers have not been confirmed by Spanish authorities. Catalan police have so far confirmed one death and said 32 people have been injured, 10 of them seriously.
Spanish police, who are treating the incident as a terrorist attack, said the "massive crash" happened on Las Ramblas in an area of the city popular with tourists.
This is the latest terrorist attack using a vehicle in Europe, following similar atrocities in Nice, Berlin and London that have claimed more than 100 lives in total.
Television pictures showed a crashed van stopped on top of a Joan Míro mosaic halfway down Las Ramblas. It reportedly entered the wide boulevard where it meets the Plaça de Catalunya, then drove towards the port area, meaning it would have covered more than 500 metres.