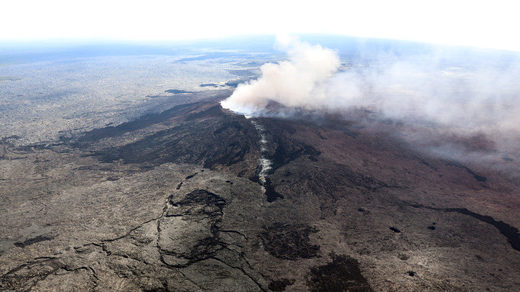 A powerful earthquake measuring magnitude 6.9 has struck just off the Big Island of Hawaii as numerous smaller jolts, including a 5.4 tremor, shook the island in the past hours, amid ongoing volcanic eruption.
The US Geological Survey has
upgraded
the severity of the earthquake off the Big Island in Hawaii to a 6.9 on the Richter scale, roughly an hour after it was registered. According to the new USGS data, the extremely powerful tremor was registered 16km southwest of Leilani Estates, Hawaii, at a depth of 5.0 km.
The quake struck on the south flank of Kilauea Volcano at 12:33 local time and was followed by several aftershocks,
according
to the National Weather Service, as eruptions at the volcano continue. No Tsunami warning has been issued.
The tremor was the most powerful of a series of earthquakes that have been rocking the islands over the past days. No Tsunami warnings have been issued after the quake.