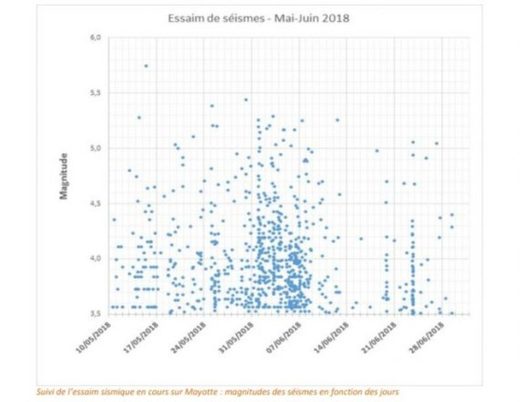 It was June 14 when officials in Mayotte opened up a psychological support services unit, designed to help residents deal with the stress of hundreds of earthquakes they've experienced as part of the ongoing seismic activity the Indian Ocean island nation has endured for weeks.
The situation has "caused concerned reactions among the population," according to the prefecture, which issues daily updates on the earthquakes.
Those updates on a
seismic swarm that began May 10
are mirrored in reports from the Bureau de Recherches Géologiques et Minières (
BRGM
), the France-based geological agency serving the territory. And those reports keep coming, nearly two months after the shaking began.
The most recent BRGM report,
issued Friday
, shows another two earthquakes of magnitude 4.0 or greater, and six quakes between 3.4- and 3.6-magnitude for the previous 24 hours. While the activity seemed to have slowed in mid-June, it came roaring back last Sunday with dozens of smaller earthquakes and one that topped out at a 5.1 magnitude. There were 17 more on Monday, and 12 more on Tuesday - including another 5.0 - followed by a comparable quake on Wednesday.
Almost all of the seismic activity is in the same spot about 50 kilometers to the east of the island, with the largest 5.8-magnitude quake occurring on May 15.
It also was the largest ever recorded in the archipelago
, surpassing a 5.2-magnitude event in 1993 that had previously been considered the most powerful.
While there have been no reports of serious injury or fatality,
the constant shaking has created anxiety and uncertainty for some of the 250,000 people living in Mayotte as well as visitors to the tourism hotspot.
Some minor damage has occurred to buildings, including a school in Dembeni. At least 10 families have been evacuated from damaged homes and relocated, at least until the threat passes.
The problem is that it never does.